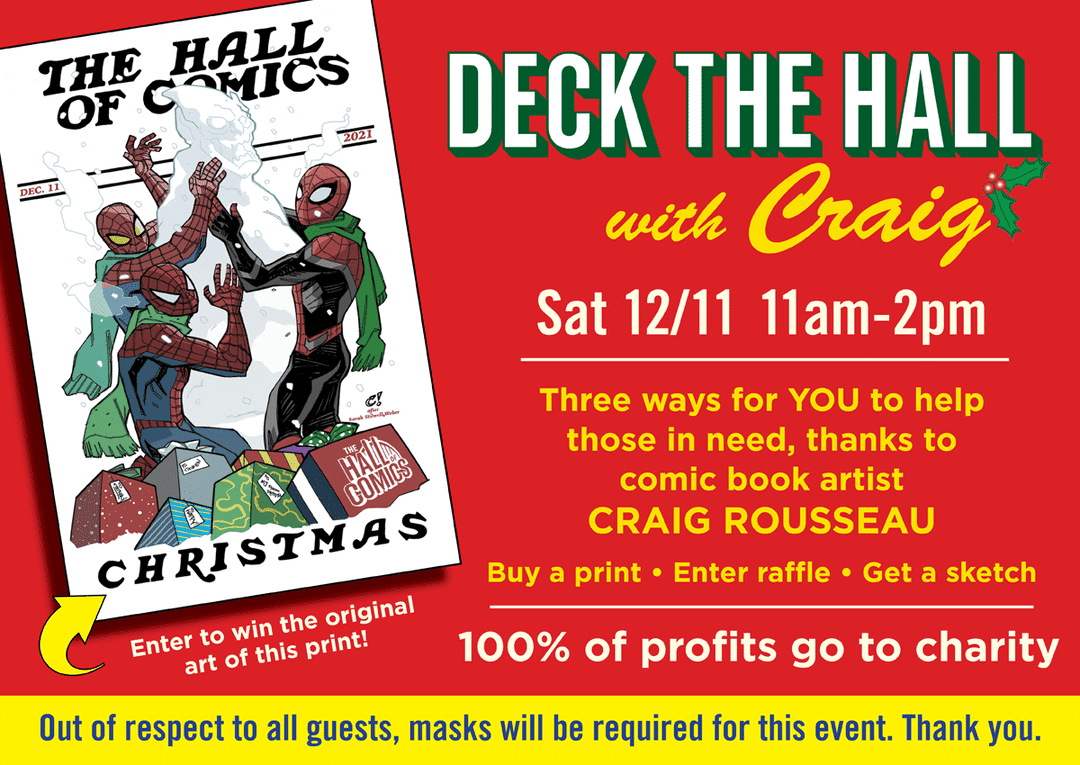 HALL OF COMICS ANNOUNCES OUR 8th ANNUAL DECK THE HALL WITH CRAIG CHARITY EVENT! Thanks to comic book artist and friend of the shop, Craig Rousseau, we'll be giving you 3 different opportunities to get some amazing art while helping those in need during the holidays. 100% of the profits from this event will go to AMVETS Post 79 of Natick – USMC Toys for Tots Jingle Ball. Here are the 3 ways you can participate…
1) GET A CUSTOM SKETCH BY CRAIG FOR $30 – We're offering 20 spots at an in-shop event with Craig Rousseau, each for a $30 donation, on Saturday 12/11 from 11am-2pm. Those 20 people will be able to request a unique sketch during the event while they watch Craig create it. ALL VISITORS at this event MUST BE MASKED – we ask this out of respect to Craig and other guests so please plan accordingly. These spots will be open *only to those who can attend the event in-person* Limit one sketch per household. Sketches must be of one comic-related character.
2) BUY A LIMITED EDITION HOLIDAY PRINT BY CRAIG – We're offering signed & numbered 11×17 limited edition prints that were created especially by Craig for this event. Each one will come in an acrylic top loader. See the complete details and order your print online at https://tinyurl.com/2s3nru2c or purchase in-shop on 12/11, while supplies last.
3) ENTER OUR CHARITY RAFFLE TO WIN THE ORIGINAL ART FOR THIS YEAR'S PRINT – We'll be raffling off Craig's one-of-a-kind, original 11×17 art he created to make this year's limited edition print. Raffle tickets are available as singles or in packs of 5. See the complete details at https://tinyurl.com/3s7pt322 Tickets are only available at this link on our webshop.
Thanks as always to everyone for your support of The Hall. We wish you & yours the safest and merriest of holidays!
The Hall of Comics
3 Turnpike Rd, Southborough, MA 01772
(508) 485-1300