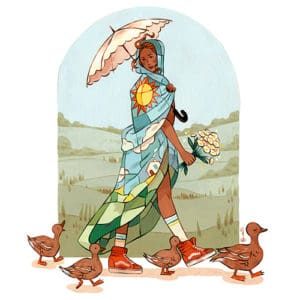 Gallery Nucleus welcomes French artist Sibylline Meynet in her first solo show with the gallery! New paintings as well as artwork featured in her new book Rêverie: The Art of Sibylline Meynet will be on display and for sale. A customized bookplate signed by Sibylline will be included with the purchase of each book.
OPENING RECEPTION DETAILS (November 20th, 2021, 5pm – 8pm PST)
Opening reception will be limited to only 40 people in the gallery at a time.
New artwork will be available for display and sale
Free to the public, no RSVP needed
Go HERE to review our COVID protocols for gallery guests.
ABOUT SIBYLLINE MEYNET
Sibylline Meynet became a freelance illustrator straight out of high school in her native France, working as a comic artist, character designer, and illustrator for magazines and books. She has worked in Europe and the US with high-profile clients including Warner Bros, Boom Studios, Netflix, and Hachette. Sibylline sells prints, books, and accessories featuring her creations in her shop.