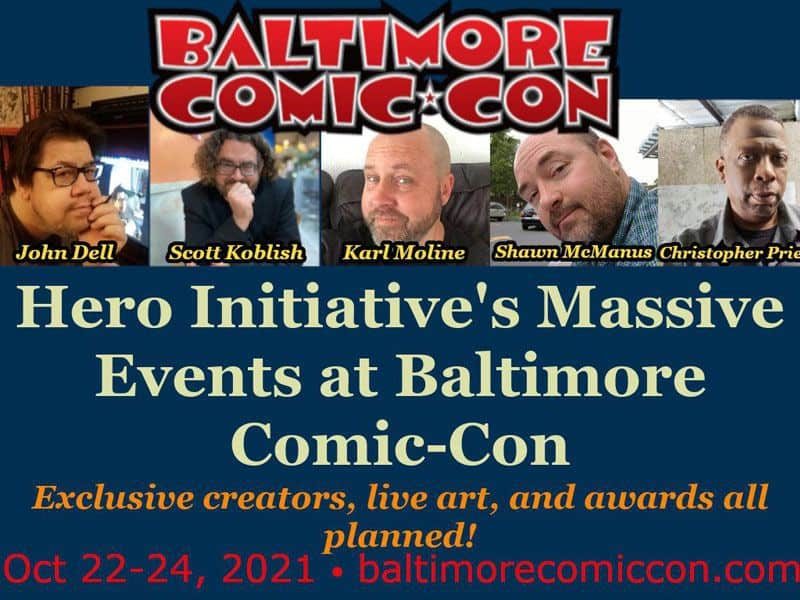 The Hero Initiative, the charity dedicated to helping comic book creators in medical or financial need, is hitting the Baltimore Comic Con in a massive way. Hero will be at booth #2101 from Oct. 22 through Oct. 24 with exclusive creators, live art, and more! Tickets are available online and close the week of the show.
Hero is the only place to find Amazing Spider-Man and JLA artist John Dell, Deadpool and World's Finest artist Scott Koblish, Swamp Thing and Sandman artist Shawn McManus, Fray and Buffy the Vampire Slayer artist Karl Moline, Black Panther and Vampirella writer Christopher Priest. Look for them all weekend long signing and sketching at the Hero booth, #2101!
John Dell and Karl Moline are making special and much healthier appearances at Baltimore. Both had recent serious health problems that Hero helped them through, and they're doing much better. You can see their important stories along with those of other at Hero Initiative's YouTube page.
Saturday at 1 p.m., make SURE you're at the Hero booth to see LIVE ART created by top artists Cliff Chiang and Gene Ha! The pair will collaborate on a new "Double Visions" piece to benefit Hero and Binc, the Book Industry Charitable Foundation.
Finally, make sure your evening is covered with a trip to the Ringo Awards on Saturday night, October 23rd. Hero Initiative is awarding its Lifetime Achievement Award and Dick Giordano Humanitarian Award as part of the festivities! Be on hand to see who's earned the hardware.
John Dell has 30+ years as a professional comic inker, working on such titles as Lobo, JLA, Young Avengers, Amazing Spider-Man, Deadpool, Guardians of the Galaxy, and way too many other credits to list. John is working with some of the most talented pencillers in the industry. A happily married father of two, John wakes up every morning feeling like the luckiest kid on his street.
Scott Koblish is an American comic-book artist who has worked as a penciller and inker on more than 600 comic books for Marvel, DC, Disney, Platinum Studios, Z2, Heavy Metal, and Acclaim. He has worked on a wide variety of titles, including GI Joe, Punisher, Elektra, Thor, Hulk, Captain America, Daredevil, X-Factor, X-Man, X-Men, X-Men '92, Uncanny X-Men: First Class, Excalibur, Wolverine, Fantastic Four, Spider-Man, The Avengers, Guardians of the Galaxy, Doom 2099, Deadpool 2099, Moon Knight, Venom, Star Trek/X-Men, Deadpool, Spider-Man/Deadpool, Iron Fist, How to Read Comics the Marvel Way, and Star Wars for Marvel, and worked on Superman, Primal Age, Titans, OMAC, Outsiders, Batman, Aquaman, and Lobo for DC. His most notable work at Marvel as a penciller was his 6-year run as an artist on Deadpool, where he received the Guinness Book of World Records for most characters to appear on a comic book cover. He is the author and artist of the book The Many Deaths of Scott Koblish, and artist on How To Draw DC Comic's Super Heroes and Super Villains. He is also starring in a DCKids' Youtube series focusing on how to draw characters from the Batman universe.
Shawn McManus is an American artist who has worked for every major publisher over the past three decades. He's probably best know for his work on Neil Gaiman's original Sandman series and Alan Moore's scripted Swamp Thing. When he's not watching episodes of Curb Your Enthusiasm or Mr. Inbetween, or admiring the magic of Frank Godwin's line work, he can be found chained to his drawing board trying to meet a deadline.
Karl Moline has worked as a professional comic book artist with every major comics publishers for over twenty years. He is best known for his work on Buffy the Vampire Slayer and co-creating Fray with Joss Whedon, but has also worked on titles such as Superboy, Supergirl, Avengers Arena, Avengers Academy, Rogue, Route 666, Daredevil 2099, Loners, Seekers of the Weird, Hulk Smash Avengers, B.P.R.D., Spider-Man Unlimited, and Vampirella among others. He is currently working on a super secret project with Scout Comics, and he might tell you about it if you ask him. He lives near Tampa, Florida and likes cats and magic.
Cristopher James Priest is a critically-acclaimed novelist and Eisner Award-nominated comic book writer. Priest is the first African-American writer and editor to work in the comic book industry, with over 40 years of writing, editing, and publishing experience. His groundbreaking reinterpretation of Marvel Comics' Black Panther was lauded by Entertainment Weekly and The Village Voice and became the platform for the Oscar®-winning 2018 blockbuster major motion picture. Static Shock, which Priest co-created with Milestone Media, Inc., was the first nationally syndicated African-American super-hero animated series, and the first act of 2005's Batman Begins was largely based upon Priest's Batman comic book work, as was the 2016 film Captain America: Civil War and the 2018 major motion picture release Avengers: Infinity War. Quantum & Woody, which Priest co-created with artist M.D. Bright, is currently being developed for television. Priest has also written and recorded numerous songs, served as producer and sideman for various bands and choirs, and has developed numerous properties for Hollywood including projects with former BET President (and Milestone Media principal) Reginald Hudlin (producer of Django Unchained), Hamm & Kitchens, Inc. (Tim Burton Batman films), Edward R. Pressman Productions Inc., and Eddie Murphy Productions. He formerly served as a Baptist pastor in Colorado Springs, where he founded PraiseNet Electronic Media in 2001. Priest is a 4-time American Advertising Federation Addy® Award winner for graphic and web design. His publishing catalog includes a trio of Green Lantern novels from iBooks/Simon & Schuster, the procedural crime novels Dual and Zion, 1999, a serialized superhero-science fiction novel, PraiseNet Essentials, a nine-book ecumenical series of theological criticism, and hundreds of comic book stories, among them the collected editions Deathstroke by DC Comics, Black Panther by Christopher Priest: The Complete Collection, Captain America and The Falcon by Christopher Priest: The Complete Collection, and The Quantum & Woody Omnibus by Valiant Entertainment.
Further information is available on the website: baltimorecomiccon.com