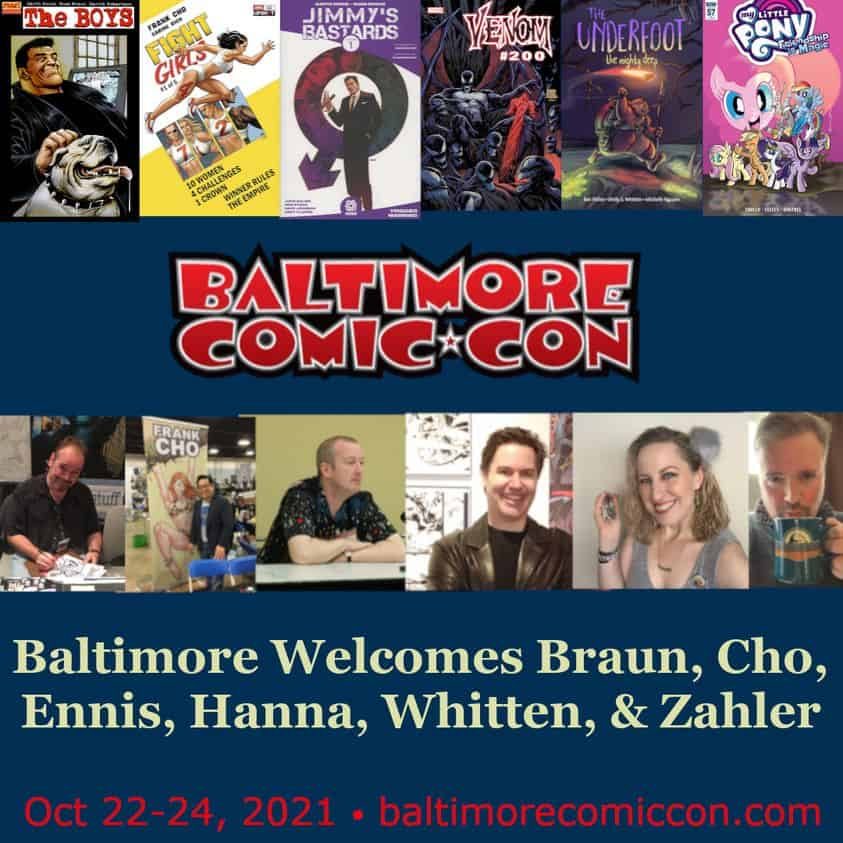 The Baltimore Comic-Con is thrilled to announce the appearances of Russ Braun, Frank Cho, Garth Ennis (Friday and Saturday only), Scott Hanna, Emily Whitten, and Thom Zahler at our 2021 event taking place the weekend of October 22-24. You can get your tickets online now!
Russ Braun has been drawing comics for 30 years, with a 7-year break for a stint with Walt Disney Feature Animation. He's worked for most of the major comics publishers on everything from Batman, Swamp Thing, and Fables for DC/Vertigo to Son of Satan and Where Monsters Dwell for Marvel. He is perhaps best known for his frequent collaborations with Garth Ennis, on their creator-owned Jimmy's Bastards, The Night Witches, Sixpack, and Dogwelder, and particularly on The Boys, now a hit TV series on Amazon. You can find him on Facebook and Instagram at russ.braun.589 or at his website russ-braun.com.
Ringo Award winner and Harvey and Eisner Award nominee Frank Cho launched his career as a comic strip artist at the University of Maryland-College Park student newspaper, penning University2, which was the predecessor of his creator-owned syndicated strip and comic series, Liberty Meadows. His body of work also includes Marvel Comics' New Avengers, Mighty Avengers, Shanna the She-Devil, New Ultimates, and X-Men: Schism, as well as Jungle Girl for Dynamite Entertainment. His recent work can be seen on covers from DC's Harley Quinn and AWA Studios' Fight Girls.
Garth Ennis broke into the American Comic scene in 1991, taking over the writing reins on Hellblazer. After a successful four-year run, Ennis moved on to create Preacher, a 66-issue epic that ran from 1995 -2000. In addition to these two ground-breaking series, he also had lengthy runs on DC's The Demon and Hitman. Ennis wrapped up The Boys, a 72-issue story which began at DC's Wildstorm imprint before moving to Dynamite Entertainment with issue #7, and which has been adapted as the highly successful Amazon Prime Video series.
Scott Hanna is an Eisner Award-winning artist in the graphic novel industry. Scott has been drawing and inking comic books for over 30 years. His work has been published in over 1,000 comics and graphic novels, and he's inked over 22,000 pages of comics art. At Marvel Comics, Scott's worked on all the top characters at the company, including the Avengers, Iron Man, The X-Men, and The Hulk. He's most known for his more than 15 year run on the Spider-Man titles. At DC Comics, he has worked on most of their major titles, including a five-year run on Detective Comics starring Batman, Green Lantern Corps, Wonder Woman, Justice League, Superman, and Teen Titans. Recently, he has worked on Venom #200, Heroes Reborn, Marvel Double Action, and X-Men Legends for Marvel, and DC Generations, Nightwing, and the Milestone books Icon and Rocket, and DUO at DC Comics. He is founder of the Arts and Fashion Institute in PA with his wife Pamela Ptak, where Scott teaches classes in sequential art, painting, drawing, and cartooning.
Emily S. Whitten is an award-winning writer and the co-creator and co-writer of the Ringo Award-nominated The Underfoot middle-grade graphic novel series from Oni Press, an epic sci-fi saga about intelligent hamsters with special skills struggling to survive in a post-apocalyptic world. Emily is also a pop culture journalist and program host, TV and audio media personality, convention organizer, and attorney. She resides in the greater D.C. area, and in her copious spare time enjoys crafting, reading, exploring the great outdoors, and looking after her tiny hamster. Stop by Emily's table on the exhibit floor to pick up The Underfoot: The Mighty Deep; The Underfoot: Into the Sun; and fun The Underfoot goodies including hamster ears, stickers, and pins. She will also have available a limited-edition print of her "Trick or Treat"-themed The Underfoot watercolor, as featured in this year's Baltimore Comic-Con Yearbook!
"We feature such a wide array of comic superstars," said Marc Nathan, show promoter for the Baltimore Comic-Con. "From creators working on works targeting mature audiences to creators catering to works accessible for younger readers, we work hard to check a lot of boxes. We know that fans of all types and ages will enjoy meeting these guests, and we're excited to have them with us this year."
Further information is available on the website: baltimorecomiccon.com