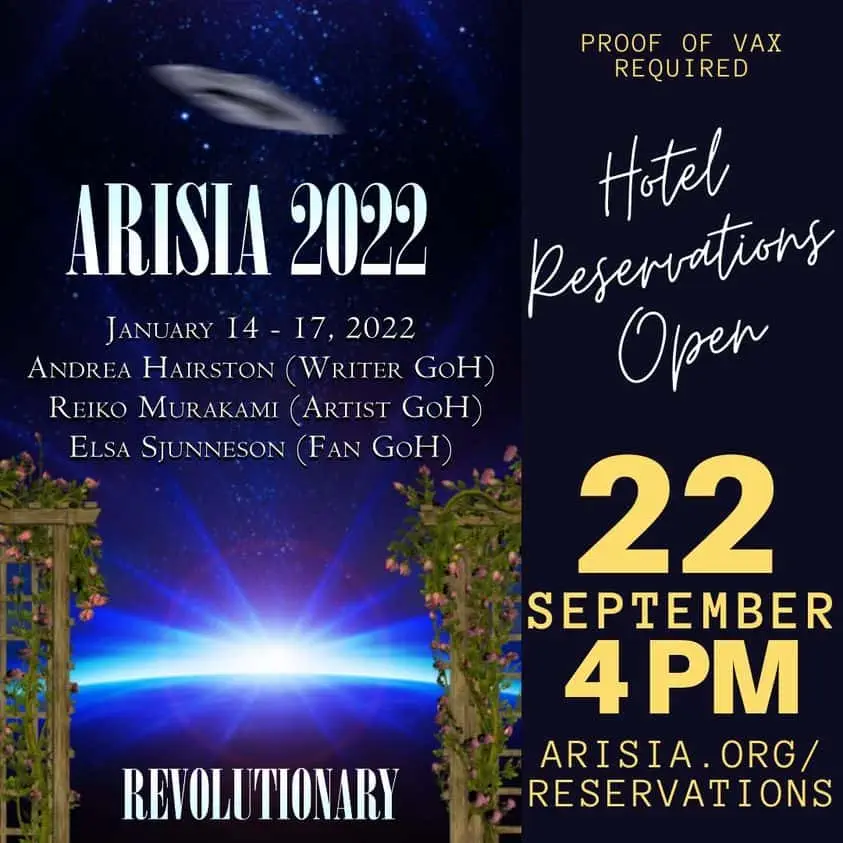 ​​Hotel reservations will open on Wednesday, September 22 at 4 pm EST for Arisia 2022. Please visit our Hotel Reservation webpage for the appropriate links when they become active.
​Booking Details
All of Arisia's functions and parties will be at the Westin Boston Waterfront Hotel at 425 Summer Street, Boston, Massachusetts, 02210 USA.
Rates for 2022 will be:
Westin – 1 King Bed – $187/night
Westin – 2 Double Beds – $205/night
Westin Suites – $350/night – will be allocated by the Party Czar — see "Hotel Suites", below.
The fine print:
All hotel rates are per night and do not include the 14.95% room tax.
All rates are for all occupancy levels, but no more than four (4) people may stay in a room.
Rooms include free in-room wireless Internet.
The only way to reserve a room is through this webpage, once reservations open.
COVID-19 Policy
​​Please note that all badged attendees of Arisia 2022 must provide proof of vaccination to be admitted to the convention.  Proof of vaccination can be shown with a vaccination card that indicates you have received the Pfizer, Moderna, or Johnson & Johnson COVID-19 vaccine.  If you have received a different vaccine, or do not have a card, please reach out to our team at feedback@arisia.org.  We remain hopeful that vaccines will be available for children under 12 before the convention in January.  However, if they are not, and the current increasing rate of COVID-19 in that age range continues, we may have to require that parents do not bring their unvaccinated children to Arisia.  We are reaching out to medical professionals for advice on this subject and will update the community on this policy as we know more.  Arisia's COVID-19 policy will change, as necessary, in the months before the convention as we receive new guidance from the CDC and Massachusetts.  We will keep the community up-to-date as those changes occur.  If you have any questions about our COVID-19 policy, please reach out to feedback@arisia.org or contact us through our website.​
Changes and Requests
Once your reservation is made, you can make changes and additions by following the steps on our Special Requests page. For any special requests, including rollaway beds, accessibility, location, change of room type or nights, etc. please fill out the Special Requests Form on that page.
Contact innkeeper@arisia.org to cancel your reservation by December. 11, 2021 to avoid paying a one-night cancelation fee.
Hotel Suites
A limited number of suites are available by request only for parties, families, and others.
Priority for suites is given to parties, and requests are evaluated by the Hotel Liaison team. You must make a room reservation before filling out the Party Host and Suite Request Form using the link below.
Important Dates
Wed., Sep. 22, 2021 – Reservations open to the public at 4 PM EST.
Sun., Nov. 13, 2021 – Suite Requests due
Sun., Dec. 11, 2021 – Deadline to cancel Westin rooms
Mon., Dec. 20, 2021 – Special Requests due! PLEASE get your special requests submitted BEFORE this date!
Fri., Dec. 29, 2021 – Final deadline to make a reservation!
Tues., Jan. 10, 2022 – Final deadline to cancel a reservation, beginning of special rate
Thurs., Jan 19 – End of our special rate