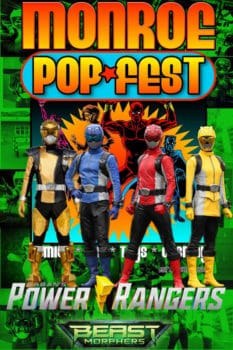 Meet the cast of Power Rangers Beast Morphers at The 2021 Allen Chevrolet-Cadillac Monroe Pop Fest!
That's right all four Power Rangers Beast Morphers will be at the 2021 show! BOTH DAYS! Come get pics, autographs and even video shout outs from the crew! Also appearing are the Red Dino Charge and Ninja Steel Rangers! That's six Power Rangers! It's gonna be a POWER-ful SHOW!
Big news for us here at the Monroe Pop Fest! With social distancing very important these days we've decided to go to TWO days of Monroe Pop Fest FUN to help spread out the crowds and add a little more fun to an already great weekend!!
Tickets are on sale at monroepopfest.com/tickets and Our House Games at 1211 S Monroe St in Monroe!
"Michigan's FINEST LIL' CON!! Formerly the Monroe Comic-Con! Now the even better 2 DAY Monroe Pop Fest!! Our 2021 event is 09/17 & 9/18/2021! Every year we offer OVER 150 AWESOME GUESTS, ARTISTS, COMICS & TOY VENDOR BOOTHS INSIDE & OUT, PLUS COSPLAY and more! This year meet Doug Jones, James O'Barr, Tim Jacobus, the cast of Power Rangers Beast Morphers, Brennan Mejia, Darren McCarty and many more! Tickets start at $6 adv & kids 5 and under FREE! Don't miss our first year PREVIEW NIGHT on Friday!! Panels, cosplay contest, artist alley, 30,000 square feet of pop culture goodness with an all ages outside FUN ZONE featuring The Ghostbusters, movie props, food trucks and more! All guests are scheduled for Saturday only but you never know some may show up Friday too!
Masks, sanitizing stations and social distancing will still be very important in September so please be courteous to all workers, attendees, vendors and others and wear a mask, keep sanitized and if you feel sick or have been exposed stay home! *Rules subject to change*
Ticket prices for
Friday:
ADV $6, kids 5 and under free
At the door $10, kids 5 and under free
Saturday:
ADV $10, kids 5 and under free
At the door $15, kids 5 and under free
2 DAY VIP:
ADV $20 ALL AGES
At the door on Friday $25 ALL AGES