The countdown is underway. All systems are go. It's time for one final flight check before your intergalactic adventure begins. PLANET COMICON KANSAS CITY OR BUST!
But wait! Ever have that feeling that you're forgetting something? Well, let's take care of that right here and now. We've assembled a handbook of essential info… 
THE PLANET PREFLIGHT
. Think of it like a mini Hitchhiker's Guide to #PCKC (towel not included).
But before you tuck in to this tale of intergalactic adventure, don't forget about two additional sources of handy Planet Comicon info: our mobile app and program guide!
THE PLANET COMICON KANSAS CITY MOBILE APP
PROGRAM GUIDE
Now… sit back, relax, and soak up the wisdom gained from welcoming hundreds of thousands of guests to our friendly corner of the geek galaxy for more than 20 years!
Per directive of the Mayor of Kansas City, Missouri, masks are mandatory indoors for all persons, vaccinated or unvaccinated, in the Kansas City Convention Center, including all attendees, guests, exhibitors, volunteers, contractors and staff at Planet Comicon Kansas City. Per the order, limited exceptions that allow for the temporary removal of the mask will be allowed:
In designated dining areas (when actively eating and drinking); and
During photo ops (masks must be worn while waiting in line and after the photo op, but may be temporarily removed for the photo itself); and
Celebrity Tables (masks must be worn indoors at PCKC but may be temporarily removed if the guest is offering photo opportunities at their table; this information will be available at the guest's table. This applies to celebrity guests and to creator guests and is at the guest's discretion).
Limited exceptions are allowed for the following groups:
Minors below the age of 5; and
Persons who have disabilities where masks constitute a substantial impairment to their health and well-being based upon medical, behavioral, or legal direction.
Face coverings or masks must fit properly, securely covering a person's nose and mouth and remain affixed in place without the use of one's hands.
Planet Comicon is looking forward to welcoming you all back to the show. If you are cosplaying and have a question about a face covering or mask, please ensure that your face covering or mask securely covers your nose and mouth and effectively protects you, the wearer, and your fellow con-goers. We appreciate your efforts in helping us maintain a fun and safe environment for all attendees at Planet Comicon Kansas City.
Centrally-located in Downtown Kansas City, Bartle Hall is surrounded by almost 40,000 parking spaces. Parking information and the opportunity to reserve parking is also available. Attendees should also consider the FREE KC Streetcar, which operates on a 2.2-mile route throughout downtown, serving many of Kansas City's most popular attractions, destinations and parking areas.
DROP OFF LANES
You can drop off your passengers and then head to park. For the convenience of those of you transporting others, we have designated the east and west lanes of Central St around 13th Street as drop off lanes. KCPD will be there to assist with pedestrian and vehicular traffic.
ADA DROP OFF   
The west lane of Central Street at 13th will be available for dropping off anyone needing special assistance, where they may enter the east door of 2200 Lobby.
For more information on getting to the show, visit our parking and transportation page and spend time to plan ahead!
Tickets for Planet Comicon Kansas City are available at the door but 
purchasing advance admissions
 will expedite your takeoff to Planet Comicon and save you a little money too. When you purchase advance admissions, you will receive a confirmation email that you use to access a QR code. Bring that QR code message to the Will Call desk where you will receive your Planet Comicon admission wristband.
Planet Comicon will also have two early pick up locations  so you can get your wristband and be ready to go! 
EARLY PICKUP – Thursday, August 19
– U.S. Toy, 12070 Metcalf Avenue, Overland Park, KS – 11:00 am – 8:00 pm
– Bartle Hall, 2200 Lobby, Kansas City, MO – 11:00 am – 8:00 pm
WILL CALL HOURS – Bartle Hall, 2200 Lobby
– Friday, August 20 – 11:00 am – 8:00 pm
– Saturday, August 21 – 8:00 am – 7:00 pm
– Sunday, August 22 – 8:00 am – 5:00 pm
Will Call is open early, starting August 19, from 11:00 a.m. – 8:00 p.m. Get your wristband early and be ready when the doors to Planet Comicon Kansas City open.
And YES, someone other than the person who made the purchase can pick up their wristbands. Just be sure they have your confirmation email (paper or a version that you have sent to their phone) when they come to the Will Call desk.
NOTE: The wristband is your credential for admission to Planet Comicon Kansas City. Once attached, it cannot be removed. If you have a three-day admission, the wristband must be worn all three days. It cannot be removed and reattached.  A wristband that has been removed is void and not valid for admission.
Planet Comicon Kansas City hours are as follows:
Friday, August 20th: 1:00 p.m. – 8:00 p.m.
Saturday, August 21st: 10:00 a.m. – 7:00 p.m.
Sunday, August 22nd: 10:00 a.m. – 5:00 p.m.
We do have several lines for admissions and purchases: please review to determine which line you should be in before you arrive at the show.
Non Credentialed (you don't have your credential wristbands)
Box Office – Will be located at the Bartle Hall in room 2215. Entry is at the southwest corner of Central and W 13th St.

Join this line ONLY if you need to purchase tickets the day of the show (if you purchased online – see Will Call).
Follow yellow themed Box Office signage.
Box office hours are 2 hours prior to the show to show close.

Will Call – Lobby 2200

Join this line ONLY if you purchased tickets ONLINE.
Follow Blue themed signage.
NOTE this line will most likely go outdoors.
Will Call hours are posted above.
Credentialed entry (you have your credential wristbands)
General – Enter Lobby 2200 – line starts at the bottom of 2200 lobby east escalator.

Follow Hot Pink themed signage.

Fast Pass/VIP Packages – Enter Lobby 2100 at the northwest corner of Broadway and 13th Street.

Entry to the show will be 2100 East Escalators.
Follow Orange themed signage.
Still not sure? Ask a crew member and they will help guide you to the proper line.
Preflight Item No. 5:
Craft Your Cosplay
We encourage anyone who wants to attend in costume to do so. Cosplay is a major part of Planet Comicon Kansas City.
Planet Comicon is one of the biggest cosplay events in the region and we provide space for cosplayer meet-ups, costume repair, costume contests for kids and adults, special events and more. Just remember, PCKC is a family-friendly show and clothing and costumes should not exceed PG-rating standards!
We also value the safety of all those attending the event and are working closely with KCPD and our security operators to help all attendees enjoy Planet Comicon to its fullest. ALL PROPS WILL BE INSPECTED AND EVALUATED TO DETERMINE IF THEY ARE VIABLE FOR ENTRY TO THE SHOW.
Props will be evaluated from the standpoint of the risk they present, based on the materials used, the way they are displayed or carried, their functionality, and potential for harm to others.
NO AIR SOFT GUNS OF ANY KIND WILL BE ALLOWED.
NO PROP GUNS which could be mistaken for contemporary real-world guns will be allowed.
Light sabers and blasters and other futuristic prop weapons may be allowed, subject to approval by security.
Planet Comicon reserves the right to conduct bag checks and utilize metal detectors as deemed appropriate by show management and security.
Show management reserves the right to make changes to this policy at any time.
Planet Comicon Kansas City is also dedicated to providing a safe and fun environment for all fans. Toward that goal we have adopted guidelines for respecting the feelings and personal space of others. Please review our 
Anti-harassment Standards
 for our policies and procedures.
Photos at Planet Comicon Kansas City are allowed, but we ask you to follow some simple rules. First, ask for permission to take someone's photo. If someone doesn't want their picture taken or put on video, please respect their wishes.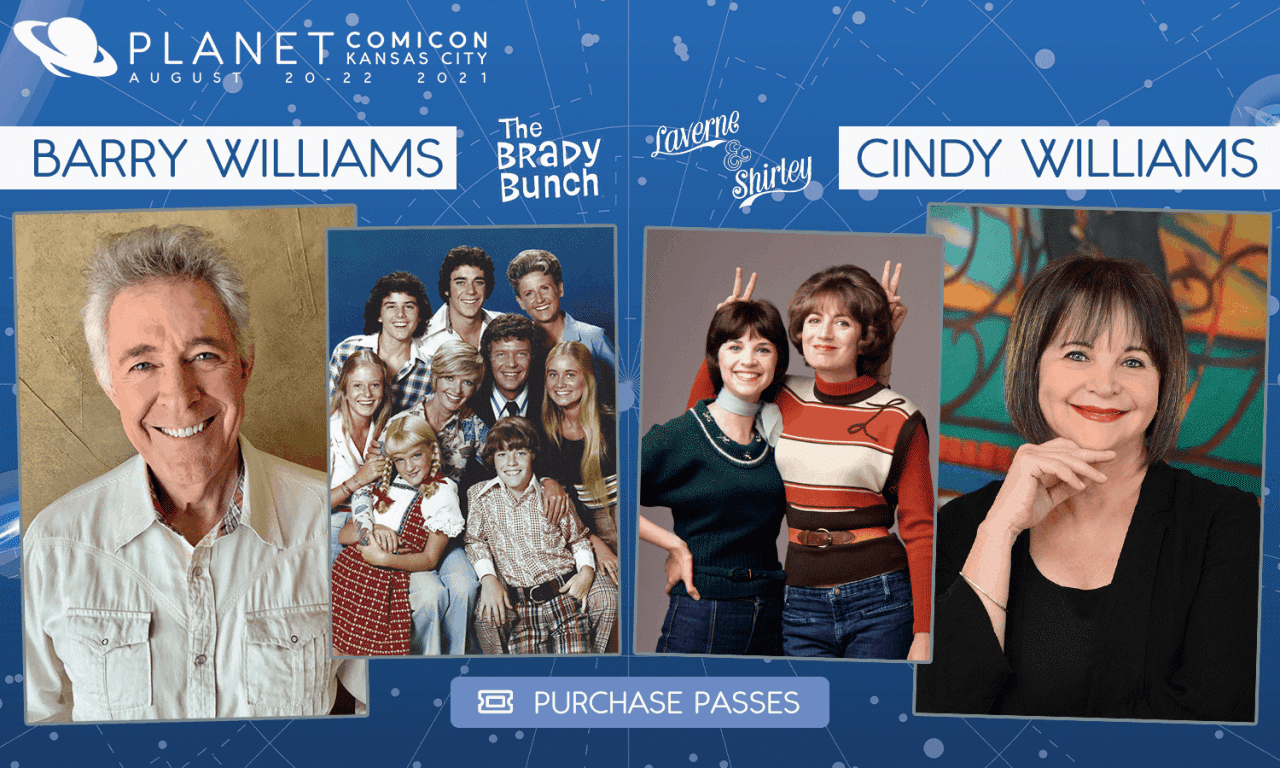 Preflight Item No. 6:
Shop Your Fandom
Planet Comicon Kansas City offers you the opportunity to get up close and personal with your favorite comic creators and celebrity guests. Don't be nervous, that's why they are here. Whether you consider yourself a Potterhead, honorary member of the Coruscant Guard, or simply a pop culture fanatic, you can come face to face with the stars and creators of your favorite comic books, TV shows, movies and sci-fi world.
With nearly eight football fields worth of exhibit space Planet Comicon Kansas City is a collectors dream. There are hundreds of creators and vendors for you to peruse and plenty of opportunities to add more comics to your collection, pick up your favorite collectible, or snag something you've always wanted. There's something for everyone at PCKC!
We do suggest you bring cash if possible as many creators, celebrities, crafters and vendors only accept cash. If you run short, ATMs will be available in the exhibit hall. Planet Comicon Kansas City also offers photo opportunities with guests. Check out the full list of Planet Comicon Kansas City guests!
Part of the experience in meeting guests at PCKC are the photos you take with them. There are two different types of photo opportunities with PCKC's celebrity guests.
Celebrity Tables: Guests may offer photo opportunities at their autograph table, using the fan's camera/phone. These are often cash transactions and are at the guest's discretion. If the guest is offering photo opportunities, masks may be temporarily removed for the photo. This will vary by guest and be at the discretion of the guest.
Photo Ops: Photo Ops, taken by a professional photographer, are taken in our Photo Ops Area behind Celebrity Row. These will be available on a specific schedule and may be purchased in advance and at the show. Masks must be worn while waiting in line and after the photo op, but may be temporarily removed for the photo itself. For more information and to purchase Photo Ops, please visit the Planet Comicon Photo Ops page.
Note that physical contact with a celebrity guest is always at the guest's discretion during photos. Always ask permission, please. Don't assume.
We ask that no photos in the celebrity area are taken unless you are purchasing a table photo or professional photo op.
The 
Planet Entertainment Zone (PEZ)
 is the place to come when you are looking for something stimulating and fun to do! The PEZ is located in Hall A on the exhibit floor.  This is where you will find a variety of interesting interactive activities for the kid in everyone!  New this year are interactive exhibits by the 
US Army
, 
FlipSwitch VR
, 
Oklahoma Tourism
, 
FIRST Robotics
, 
Boulevard Brewing
, 
Unified Esports
, 
Old School Gamer Magazine
, 
Solid State Pinball Supply
, 
Nebraska Furniture Mart
, 
Bordner Home Improvement
, 
Minddrive
, and