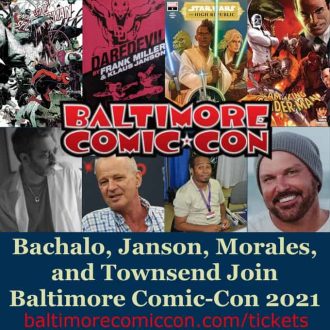 Join us for the 22nd annual Baltimore Comic-Con this October 22nd-24th at the Inner Harbor's Baltimore Convention Center! The Baltimore Comic-Con is bringing comics greats Chris Bachalo, Klaus Janson, Mark Morales, and Tim Townsend to this year's show. Purchase your tickets now online.
Chris Bachalo is internationally recognized as one of the most popular artists in the comic industry. His body of work covers a wide spectrum of genres ranging from the critically-acclaimed Sandman, Shade: The Changing Man, Death: The High Cost of Living, and Batman series for DC to Marvel's Doctor Strange, Uncanny X-Men, The Amazing Spider-Man, and Generation X — the first title from Marvel that was adapted into a live action film for Fox. The short story "The Wheel" written by Sandman and American Gods writer Neil Gaiman and illustrated by Chris featured the Death character and was inducted into the Library of Congress in 2003. It was created as part of a tribute to 9/11. His cover work for the title Hunter: The Age of Magic for DC was included as part of a New York gallery show for the Society of Illustrators. He also teamed with Stan Lee on DC's Just Imagine… by Stan Lee, a re-imagining the DC Universe featuring Catwoman. Chris also illustrated the cover for the Hollywood Reporter celebrating Stan's 75th birthday. He is currently working on Marvels' flagship title, The Amazing Spider-Man. Chris also co-created two creator-owned properties. He collaborated with previous Executive Vice President of Marvel Television, Jeph Loeb on the Vertigo/DC title The Witching Hour, and co-created with Ben 10's Joe Kelly the retro-futuristic sci-fi epic, Steampunk, published by Cliffhanger/DC. In addition to his work in comics, Chris' artwork has graced the covers of The Hollywood Reporter and PSM (PlayStation Magazine). Other clients have included Activision, Oakley, Taco Bell, Stuff magazine, Mad Magazine, Upper Deck, Disney, Neiman Marcus, EA, and Def Jam Records. He was also commissioned to do artwork that was transformed into a 50' X 80' mural at the Marvel/Universal theme park in Orlando, Florida.
Klaus Janson was born in 1952 in Coburg, Germany, and came to America in 1957. As a child growing up in Connecticut, he learned how to read and write the English language almost exclusively from Lois Lane and Superman comics. Even at that early age, delusions of competence overtook him and he would cut apart the comics and paste them onto paper to construct new stories. This eventually led to the notion that drawing the stories outright and preserving the comics might be a more efficient way of approaching this medium. A valuable and life saving apprenticeship with his mentor Dick Giordano encouraged him to continue. After many summers of portfolio reviews and rejections, Marvel Comics offered a part time office job applying grey tones to the black and white horror comic reprints that were glutting the market. Two things happened that would change that: Daredevil and teaching at The School of Visual Arts. Daredevil with Frank Miller in the mid-1980s was a rare opportunity for two artists to work unconstrained by the typical expectations or oversight of corporate thinking. An anomaly for mainstream publishing, Daredevil was a struggle between artistic instinct and intellect that, at its best, resulted in that perfect balance. The other step forward was teaching at The School of Visual Arts. Klaus believes that communication is the most powerful tool human beings possess. That ability to communicate can come in many forms but at its root is called storytelling. Klaus lives in New York, where he writes, draws, inks, and colors, and teaches comics.
Please note: Klaus will be appearing Saturday only at the 2021 Baltimore Comic-Con.
A longtime comics pro, Mark Morales has worked for many companies, including Image, Dark Horse, Chaos, DC Comics, and Marvel Comics, mostly as an inker. Past projects from Mark include Thor, Daredevil, Batman, X-Men, Avengers vs. X-Men, Spider-Man/Deadpool, and Astonishing X-Men. Currently, he is working on Heroes Reborn and The High Republic from Marvel Comics.
Tim Townsend has been a regular inker at Marvel Comics for the last 28 years. Having worked on most of Marvels major titles at one time or another, he's best known for his work with pencilers such as Joe Madureira (Uncanny X-Men), Adam Kubert (Uncanny X-Men), Frank Quitely (New X-Men), Olivier Coipel (House of M), and, most notedly, Chris Bachalo with whom he has partnered for the last 22 years on most of the X-Men and Spider-Man titles. Tim is currently working with Chris on Non-Stop Spider-Man.
"These guys bring some serious star power," said Marc Nathan, show promoter for the Baltimore Comic-Con. "Individually, each has contributed an enormous amount of work to the comic book landscape, and they have all been tied to very significant issues and publishing events. We're excited to have them to the show (some of them first-timers!), and we know their fanbases are going to be thrilled to get the chance to meet them."
Further information is available on the convention website at the link: baltimorecomiccon.com