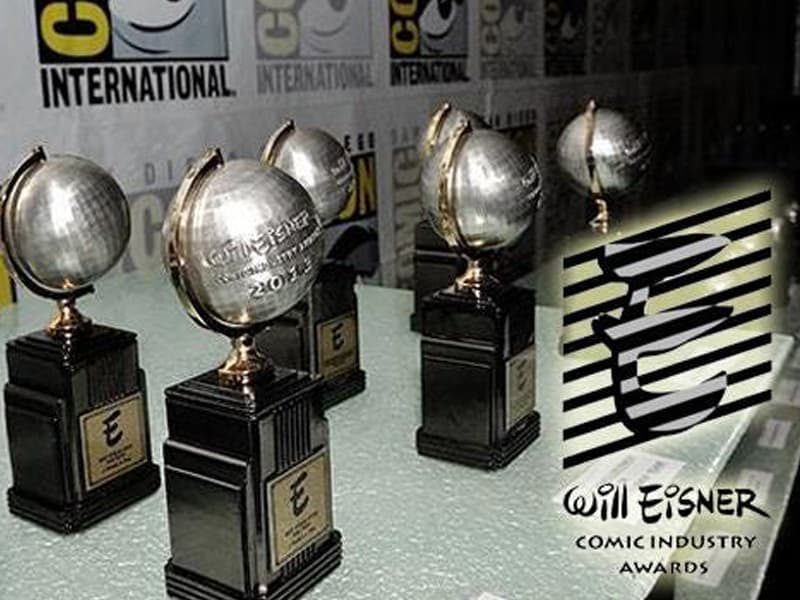 The 33rd Annual Will Eisner Comic Industry Awards, sponsored by comiXology, were presented at a virtual ceremony as part of Comic-Con@Home on Friday evening, July 23.
The top winner of the evening was Gene Luen Yang, with three awards: Best Publication for Kids and Best Adaptation from Another Medium for Superman Smashes the Klan (published by DC, with art by Gurihiru) and Best Publication for Teens for Dragon Hoops (his graphic novel published by First Second/Macmillan).
Multiple Eisners also went to writer Ed Brubaker for Best Graphic Album–New (Pulp, with artist Sean Phillips, published by Image) and Best Digital Comic (Friday, with artist Marcos Martin, published by Panel Syndicate); Matt Fraction and Steve Lieber for Superman's Pal Jimmy Olsen (Best Limited Series and Best Humor Publication, published by DC); Simon Hanselmann for Best Graphic Album–Reprint (Seeds & Stems, published by Fantagraphics) and Best Webcomic (Crisis Zone); Junji Ito for Remina (Best U.S. Edition of International Material—Asia and Best Writer/Artist, published by VIZ Media); Stan Sakai for Usagi Yojimbo (Best Continuing Series and Best Lettering; published by IDW); and Adrian Tomine for The Loneliness of the Long-Distance Cartoonist (Best Graphic Memoir and Best Publication Design; published by Drawn & Quarterly).
The Best Anthology trophy went to Menopause: A Comic Treatment (published by Pennsylvania State University Press), and Mimi Pond's contribution to that book won Best Short Story. The Best Reality-Based Work award went to Derf Backderf's Kent State: Four Dead in Ohio, published by Abrams, who also scored with Our Little Kitchen by Jillian Tamaki for Best Publication for Early Readers. Marvel's Black Widow by Kelly Thompson and Elena Casagrande was voted Best New Series, and Ben Passmore's Sports Is Hell (published by Koyama Press) was chosen as Best Single Issue. For the second year in a row, Best Comics-Related Periodical/Journalism went to Women Write About Comics.
The publisher that can boast the most winners is DC, with the two each for Superman Smashes the Klan and Superman's Pal Jimmy Olsen and a shared win for Best Writer, James Tynion IV. Fantagraphics scored wins for Hanselmann's Seeds and Stems plus the two archival categories (The Flapper Queens: Women Cartoonists of the Jazz Age in Best Archival Collection­–Strips and Peter Bagge's The Complete Hate in Best Archival Collection­–Comic Books) as well as Best U.S. Edition of International Material, won by Moa Romanova's Goblin Girl. Besides Stan Sakai's two wins, IDW published the Best Comics-Related Book (Invisible Men: The Trailblazing Black Artists of Comic Books by Ken Quattro) and shared in the Best Cover Artist win for Peach Momoko. Other publishers with multiple awards included Image (2, plus 1 shared) and (with 2 awards each) Abrams, Drawn & Quarterly, Insight Editions, Pennsylvania State University Press, and VIZ Media.
The event was hosted by voice actor/comedian Phil LaMarr (MadTV, Samurai Jack, Futurama, Justice League), who announced the nominees and winners in 32 categories. Eisner Awards Administrator Jackie Estrada opened and closed the ceremony.
Sergio Aragonés presented the Hall of Fame Awards. The Judges' Choices were Thomas Nast, Rodolphe Töpffer, Alberto Breccia, Stan Goldberg, Francoise Mouly, and Lily Renée Phillips. The four 2021 inductees chosen by the voters were Ruth Atkinson, Dave Cockrum, Neil Gaiman, and Scott McCloud. Mouly, Gaiman, and McCloud all accepted their awards via videos. Also in videos, Goldberg's son Steve accepted on his behalf, Phillips' son Rick accepted for her (along with a thank-you from the just-turned-100 Lily Renée herself), and Cockrum's wife Paty represented her late husband.
The Bob Clampett Humanitarian Award was presented by Bob's daughter, Ruth Clampett, to Mike and Christine Mignola.
The Will Eisner Spirit of Comics Retailer Award went to Laughing Ogre in Columbus, Ohio, owned by Chris Lloyd.
The online ceremony can be found online below.
A complete list of this year's winners is available at the link.