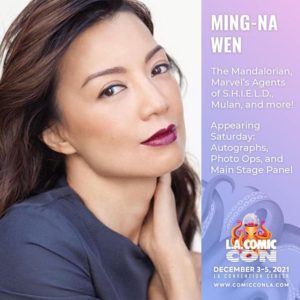 L.A.'s largest event for comics, gaming, sci-fi and pop culture, is thrilled to announce the newest addition to its star-studded lineup: actress Ming-Na Wen, a Disney "triple threat" known for her lead role in Disney's 1998 epic animated musical, Mulan, as Agent Melinda May in Marvel's Agents of S.H.I.E.L.D, and as Fennec Shand in the current Star Wars live action series, The Mandalorian. Additionally, L.A. Comic Con is announcing today the launch of early bird sale pricing for one-session passes ahead of its much-anticipated 2021 in-person event.
"We couldn't be more excited to have Ming-Na Wen join L.A. Comic Con for the first time! She is a terrific actress with great range," said Chris DeMoulin, CEO and General Manager of L.A. Comic Con parent Comikaze Entertainment, "and is the only person we know who has been a Disney Princess, a kick-ass Marvel S.H.I.E.L.D. operative, and a feared Star Wars bounty hunter and assassin. For fans of The Mandalorian, having Ming-Na and Giancarlo Esposito both at the show is just awesome."
The one-session passes, on sale today for a limited time, are the guaranteed lowest price that will be offered in 2021 for the event, and each pass allows the guest to enjoy all L.A. Comic Con's offerings for a set five-hour time period. In the case that the CDC and the LA Dept. of Public Health do not impose crowd restrictions ahead of the December 3-5 dates, L.A. Comic Con may decide to convert all 1-session passes to 1-day passes, and all 3-session passes to 3-day weekend passes – and all tickets will be converted automatically without fans needing to do anything. That decision, one way or the other, will be made much closer to the show, for obvious public health reasons.
For those already blueprinting their L.A. Comic Con 2021 experience, Ming-Na Wen's addition to the event's already stacked lineup of star talent is sure to excite, as she joins several other confirmed celebrity guests, including: her fellow Mandalorian actor Giancarlo Esposito, renowned for his legendary role as "Gustavo Fring" on Breaking Bad and Better Call Saul; Zachary Levi, best known for his leading roles in Shazam!, Chuck, Tangled, and many more; Bruce Campbell, most known as the lead protagonist "Ash" in the widely-praised Evil Dead franchise; Tom Welling, who played Superman himself in the hit series Smallville and starred in Lucifer; comic book legend Frank Miller, best known for Sin City and Batman: The Dark Knight Returns; and Tom Kenny of SpongeBob SquarePants fame.
As previously announced, for those fans who remain hesitant or unable to attend the event in person, L.A. Comic Con has expanded virtual access to the show by including new digital products, immersive online experiences and streaming capabilities for fans to participate in the live panels, talent meet-and-greets, main stage and secondary panels from home — a comprehensive virtual fan experience first introduced at the virtual Micro Con event in April 2021.