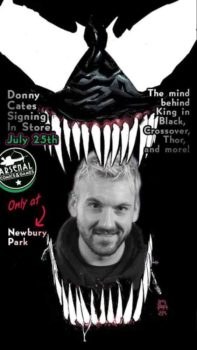 Writer Donny Cates is returning to Arsenal! Get your Venom, Thor, King in Black, Crossover and other comics out your collection and come to Arsenal Newbury Sunday July 25th! Details at the link.
Skip the line and get a VIP ticket for $50! Message us now to get on the list! PayPal/Venmo accepted!
VIP Entry includes EARLY ACCESS to the event at 7:30 and UNLIMITED comics to get signed by Donny!
BONUS ARSENAL AWARD! With your $50 VIP pass, you get $50 worth of Donny Cates comics to get signed as well!
Signing Entry Cost: $25
Comes with up to five comics of your own signed and comes with $25 worth of Donny Cates comics from our stash to get signed as well!
Event starts at 8:00pm at Arsenal Newbury Park!
Be ready to meet one of comics biggest and best writers!