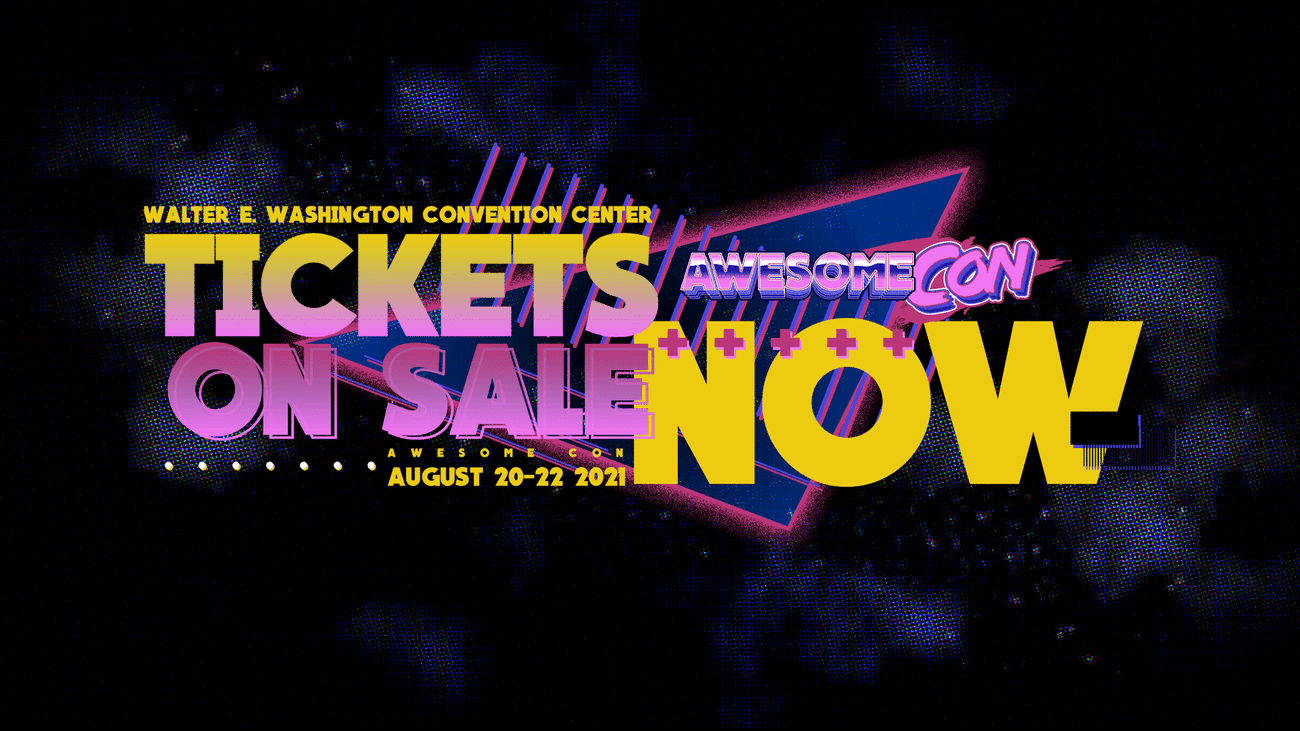 Thousands of fans in comics, science and technology, cosplay, animation & film, and gaming from across the Mid-Atlantic and beyond, will gather together Friday, August 20 through Sunday, August 22 at the Walter E. Convention Center for Awesome Con 2021, marking the return of the wildly popular three-day pop culture convention by LeftField Media.
Awesome Con 2021 continues to bring hundreds of hours of programs and comes on the heels of Washington, D.C.'s full reopening, as capacity restrictions were lifted effective earlier in June. Fans will get to experience the same exciting celebrity meet and greets, panel discussions, and exhibitor floor, complete with enhanced safety protocols, ensuring the health and wellness of attendees following the COVID-19 pandemic. At this time, the organizers of Awesome Con will continue to evaluate guidelines and precautions for the convention including:
Required wearing of masks by all individuals within the convention center
Enhanced sanitization stations and cleaning protocols
Increased spacing with wider aisles, designated entrances, and directional signage to ensure social distancing
Ongoing updates on queueing procedures and capacity reduction measures for higher traffic periods
Expanded badge mailing timeframes and offsite pick up locations to eliminate onsite pick up queues
Previously, the main convention show floor attracted more than 72,000 attendees, over 300 panels and programs, and 600 exhibitors. This year, with a larger footprint, fans will have more space to browse, take photos, and reconnect with friends. In addition, Awesome Con will showcase celebrities and experts hosting panels; cosplay contests; gaming tournaments; iconic pop culture memorabilia; and as always, a diverse array of activities for the whole family.
New to this year's pavilions, fans can explore the new educational, tech-centric Science Fair and Book Fair powered by Solid State Books. Family-friendly programs take over Awesome Con Jr., which returns with even more playful events planned to educate and entertain kids of all ages and parents alike. The fan-favorite Pride Alley presented in partnership with Flame Con, Geeks OUT, and Metro Weekly is back and bigger than ever, shining a spotlight on LGBTQ creators and fans in an even more robust section of Artist Alley where special programs discuss diversity in pop culture. The Awesome Con Short Film Festival, which debuted six years ago by artist Joe Carabeo, will showcase indie short films from around the world.
Despite the cancellation of last year's in-person event, Awesome Con's lineup includes stars from American science fiction films Back to the Future and the Lord of the Rings casts. In celebration of its second 35th anniversary Michael J. Fox (Marty McFly) and Christopher Lloyd (Doc Brown) are headlining along with Sean Astin (Samwise Gamgee) and Billy Boyd (Peregrin "Pippin" Took). Among guests confirmed to appear, Awesome Con is proud to welcome other celebrity guests and comic creators including Christina Ricci, George Takei, Adam Savage, William Shatner, Jack Quaid, Amy Chu, Sam Maggs, Tracie Ching and Ron Marz to this year's lineup, with more still to be announced.
With Awesome Con 2021 hosting more energetic programs, more globally recognized special guests, and presenting more exclusive previews and announcements to attendees than ever before, it continues to grow as a standout annual destination – uniting fans at one of the largest pop culture events in the country.
WHEN: Friday, August 20; exhibit hall hours 12pm – 8pm, programming until 10pm
Saturday, August 21; exhibit hall hours 10am – 7pm, programming until 10pm
Sunday, August 22; exhibit hall hours 10am – 5pm, programming until 5pm
WHERE: Walter E. Washington Convention Center
801 Mt. Vernon Pl, NW
Washington, DC 20001
Screen Stars:
Adam Savage (Mythbusters, Unchained Reaction, Savage Builds)
Austin St. John ('Mighty Morphin' Power Rangers)
Billy Boyd (The Lord of the Rings, Outlander)
Charles Martinet (Mario and Luigi)
Christina Ricci (The Addams Family, Casper, Sleepy Hollow)
Christopher Lloyd (Back to the Future, Addams Family, Star Trek III, My Favorite Martian)
George Takei (Star Trek: The Original Series)
Jack Quaid (The Boys, Star Trek: Lower Decks, The Hunger Games)
Johnathan Heder (Napoleon Dynamite, Blades of Glory, The Benchwarmers)
Karan Ashley ('Mighty Morphin' Power Rangers)
Michael J. Fox (Back to the Future, Teen Wolf)
Mikal Mosley (Professional Cosplayer & Cosplay Contest Host)
Sean Astin (The Lord of the Rings, The Goonies, Rudy, Stranger Things)
Walter Jones ('Mighty Morphin' Power Rangers)
Wes Johnson (The Elder Scrolls, Fallout 4, Announcer for the Washington Capitals)
William Shatner (Star Trek The Original Series)
Comic Guests:
Amy Chu (Sensational Wonder Woman, Red Sonja 1982)
Amy Reeder (Amethyst, Moon Girl and Devil Dinosaur, DC Pride)
Chuck Brown (Bitter Root, Flawed, Black Manta)
Dan Parent (Die Kitty Die, Archie Comics, Love Showdown)
Gavin Guidry (Deadly Living, Going to the Chapel, The Death Defying)
Jeremy Clark (TMNT: The Last Ronin, 'Mighty Morphin' Power Rangers)
Mitch Gerads (Strange Adventures, Mister Miracle, The Sheriff of Babylon)
Ron Marz (Green Lantern, Silver Surfer, Witchblade)
Phillip Kennedy Johnson (Superman, Alien, Extreme Carnage)
Sam Maggs (Captain Marvel, The Unstoppable Wasp, Con Quest, The Fangirl's Guide to the Universe, Tell No Tales, Fangirl)
Literary Guests:
David Liss (The Peculiarities, A Conspiracy of Paper, Whiskey Rebels)
Ellen Datlow (Body Shocks, Lovecraft's Monsters, Naked City)
Peter V. Brett (The Demon Cycle series)
Cerece Rennie Murphy (The Hope of Aferi series)
L. Penelope (Earthsinger Chronicles series)
J. Kelley Skovron (The Empire of Storms trilogy)
Constance Sayers (A Witch In Time, The Ladies of the Secret Circus)
TICKETS: Daily and full weekend passes are available. Badges purchased before July 15 will be mailed to a provided address.
Friday Only Admission: $40
Saturday Only Admission: $60
Sunday Only Admission: $45
3-Day Weekend Pass: $85
Premium 3-Day Pass: $160
Kids Admission: $15. Valid for kids ages 3-10. Valid for full weekend or any day individually.
VIP passes & experiences range from the Premium 3-Day ($160) to 3-Day, limited quantity Club Awesome Membership ($399), which offers access to various celebrity appearances, reserved Main Stage seating, 'Jump the line' cards and exclusive Club Awesome merchandise items.
WEBSITE: www.awesomecon.com is updated regularly with new guests, exciting exhibitors, and special programming.