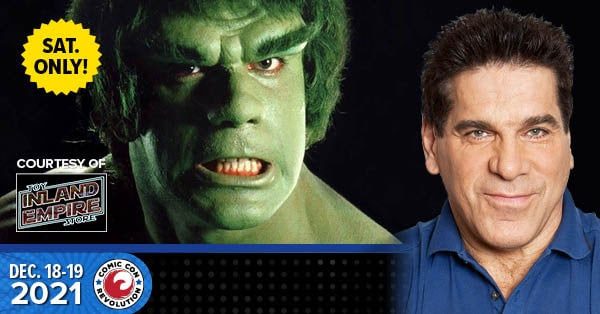 THE INCREDIBLE HULK LOU FERRIGNO COMES TO COMIC CON REVOLUTION THIS DECEMBER 18th, 2021
More Guests Announced EVERY Wednesday ALL Summer Long!
We are pleased to announce that Lou Ferrigno will be at their booth all day Saturday December 18th courtesy The Inland Empire Toy Store! Lou has, of course starred, as The Incredible Hulk on TV but also Pumping Iron, King Of Queens, I Love You, Man, Adventure Time as well as being an award winning body builder!
Remember, if you want to meet Lou be sure to pick up either Weekend or Saturday tickets and head over to the Inland Empire Toy Store booth on December 18th — he will only be at Comic Con Revolution Saturday Dec 18th!
The return of Comic Con Revolution just keeps growing every week. Stay tuned for another exciting guest announcement every Wednesday this summer! And of course, don't forget to get your tickets today! Lou Ferrigno is another can't miss part of an amazing guest list we will be announcing over the next few months. Writers, artists, authors, cosplayers, voice actors, wrestlers and more will all be joining us this December so grab your tickets now and we'll see you then!
Order your tickets today at www.ccrtix.com
For more information about Comic Con Revolution go to www.ccront.com