Gallery Nucleus welcomes children's book illustrator Ana Aranda on Satruday, June 26, from 2:00PM – 5:00PM for the release of her new book, Moth & Butterfly: Ta-Da! Original paintings from the book will be for sale and on display, and Ana will be available to sign copies.
From now until June 26th, 12 PM PST, order your copy of Moth & Butterfly: Ta-Da! and receive one mini painting featuring Butterfly or Moth painted by Ana herself! Each painting will be unique!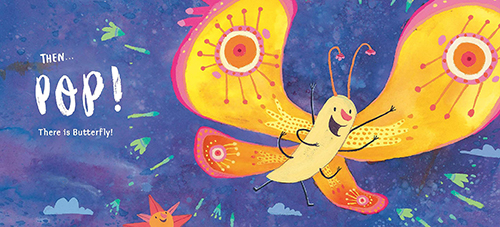 About Moth & Butterfly: Ta-Da!
Metamorphosis brings astonishing and exciting changes to a pair of caterpillar friends, who take pride in being the same–and different.
Two caterpillar friends love what they have in common–lots of legs and a talent for chewing leaves into funny shapes. And when it's time to build cocoons, they hang theirs side by side.
"Happy metamorphosis," says an older, more knowledgeable butterfly. And it is a happy metamorphosis indeed–for when the two emerge from their cocoons, they can fly! But so much else has changed–as one is now a moth, who flies by night, and the other is a butterfly, who flies by day. How will things work now? Fortunately some things never change–like true friends figuring out a way to be together, and happily flying into the sunset and sunrise.
About Ana Aranda
Ana Aranda was born and raised in Mexico City, where she studied design. From there, she moved to France, where she completed her undergraduate studies in illustration, she then obtained her MFA in Illustration in San Francisco.
Ana's work has been featured in galleries and museums in the United States, France, Mexico, Norway and Italy. In San Francisco, she has painted murals in the Mission District, for the Consulate General of Mexico, and for the prestigious de Young Museum.
Her illustrations can be found in picture books published in France and Italy. In the US you can find The Chupacabra Ate the Candelabra (written by Marc Tyler Nobleman, Penguin/Paulsen), Our Celebración!  (written by Susan Middleton Elya, Lee and Low Books) and upcoming Moth & Butterfly: Ta Da! (written by Dev Petty, Penguin/Paulsen).  She is currently working in a picture book that she both writes and illustrates.
Her biggest inspirations are her childhood memories, the vibrant colors of Mexico, and music.
Her work focuses on transforming the everyday into fantastical situations, and often include images from nature and whimsical creatures.
Gallery Nucleus