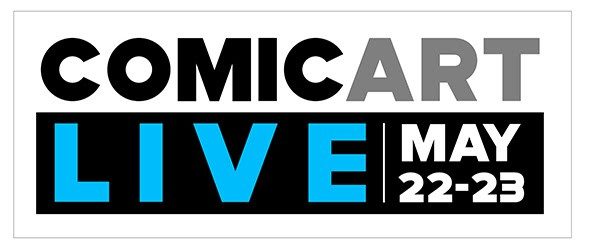 Comic Art Fans will host the third Comic Art LIVE virtual comic art convention on May 22-23, 2021. Over 50,000 collectors attended the first two events held last year, and more than $1.25 million worth of original art changed hands.
"I could not be happier with the turnout we've had for Comic Art LIVE thus far," Comic Art Fans founder Bill Cox said. "Despite the hardship the past year has been on everyone, the hobby is stronger than ever and giving the fans this outlet to interact with one another is a reward unto itself."
As always Comic Art LIVE offers free access for collectors to purchase from dealers and to watch panels and workshops on their YouTube channel. The full lineup of special guests and programming will be announced in the coming weeks. The virtual event opens to Comic Art Fans Premium Members on Saturday, May 22 at 11 AM ET and to the general public at 1 PM ET.
Premium members and advertisers of Comicartfans.com can set up a virtual booth to sell their original art, starting on May 3. Interested parties and those with exhibitor questions can contact Comic Art Fan's owner Bill Cox for more information.