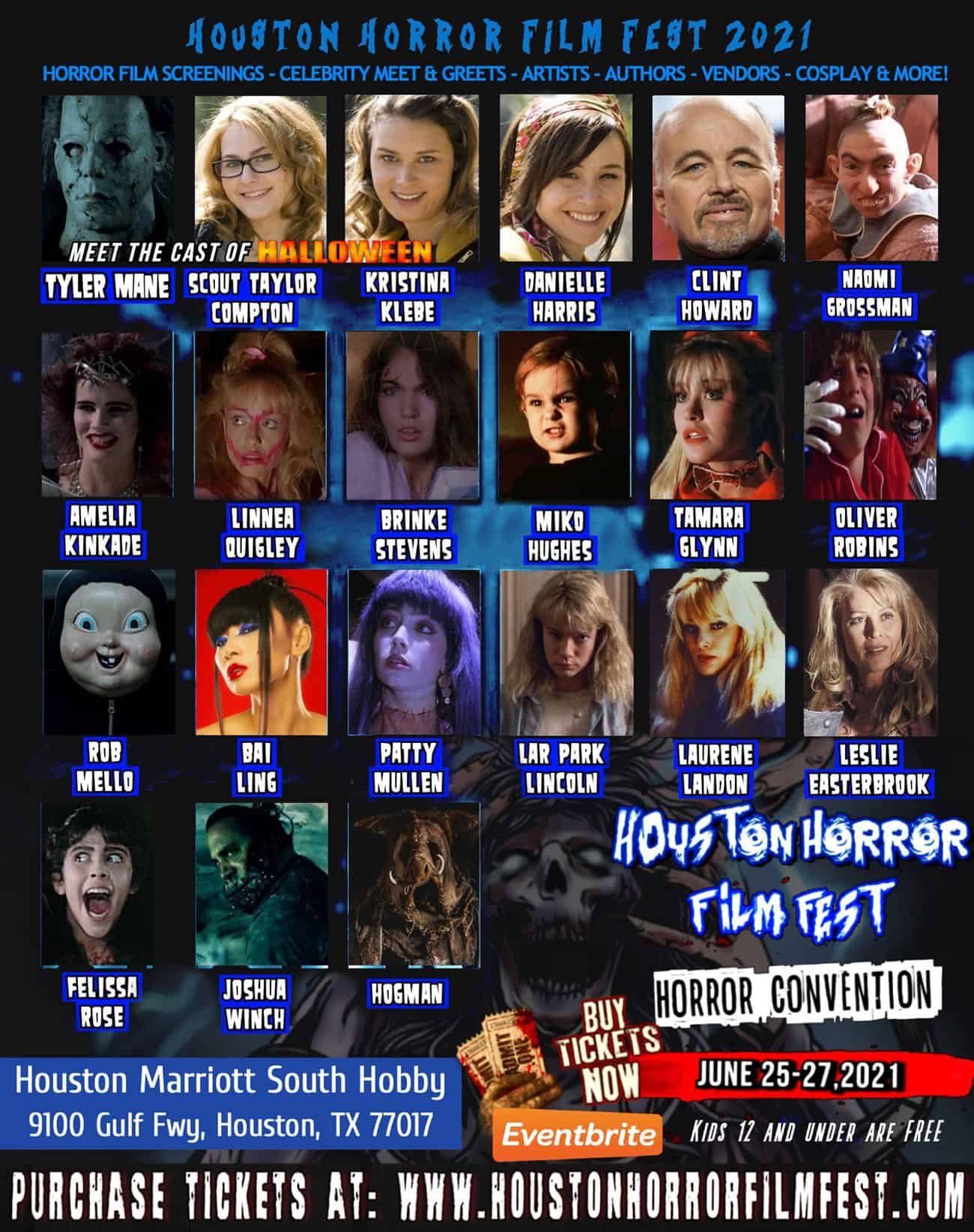 Houston Horror Film Festival (June 25-27th, 2021) 3-Day special event that will consist of In-person celebrity meet & greets / special film-screenings / vendors / authors / artists / cosplay / special celebrity photo-ops and more fun activities throughout the weekend!
Tickets are selling fast! In order to maintain capacity, we will be capping attendance for each day. Once a day sells out, it is officially sold out.
Grab your tickets for the event today via Eventbrite:
https://houstonhorrorfilmfest.eventbrite.com/
or
by visiting our website:
www.HoustonHorrorFilmFest.com
** All 2020 event purchases including ticket admissions and merchandise have been transferred to the June 25-27th, 2021 event**
Celebrities Atttending:
Danielle Harris (Halloween 4 &5)
Scout Taylor-Compton (Rob Zombie's Halloween 1&2)
Tyler Mane (Rob Zombie's Halloween 1&2, X-Men)
Kristina Klebe (Rob Zombie's Halloween)
Clint Howard (Waterboy, Ice Cream Man, Little Nicky)
Felissa Rose (Sleepaway Camp)
Amelia Kinkade (Night of the Demons)
Linnea Quigley (The Return of The Living Dead)
Miko Hughes (Pet Sematary)
Laurene Landon (Maniac Cop, Hundra)
Naomi Grossman (American Horror Story, 1BR)
Oliver Robins (Poltergeist 1&2)
Bai Ling (The Crow, Wild Wild West)
Brinke Stevens (Slumber Party Massacre)
Rob Mello (Happy Death Day)
Patty Mullen (Frankenhooker)
Lar Park Lincoln (Friday the 13th Part VII: The New Blood)
Tamara Glynn (Halloween 5, Terrifier 2)
Leslie Easterbrook (Police Academy, The Devil's Rejects)
The Houston Horror Film Festival will take place:
JUNE 25th, 2021 – Friday 5pm-10pm
JUNE 26th, 2021 – Saturday: 11am-7pm
JUNE 27th, 2021 – Sunday: 11am-5pm
Houston Marriott South at Hobby Airport
9100 Gulf Freeway
Houston, TX 77017
Sponsored by: HalloweenHaunts / Terror Cards / Our Silver Heart
Photo-Ops ON SALE NOW:
Special souvenir "8X10" photos from Shatterproof Media, LLC will be printed at the event of you and the celebrity of your choice Friday and Saturday at the event! Grab one before they are sold out today: http://www.houstonhorrorfilmfest.com/photo-ops.html
Film Screenings:
Limited capacity in-person screenings will take place at the event! Don't miss out on some of the latest and upcoming films in the horror genre! Due to CDC regulations on theaters limited seating for screenings will be available!
(Lineup announced within the next few days!)
Just as our previous events, we will continue following CDC protocols. This means social distancing, wearing masks and hand sanitation stations throughout the venue.
Want to stay at the venue with us? Reserve a hotel room today:
If you booked a hotel room at the Marriott, reservations have been automatically cancelled due to the system not being able to carry over into the new year. You will receive a confirmation email from the venue regarding this.
To book a room and get our discounted event rate of $89 a night, please visit this link: https://www.marriott.com/event…/reservation-link.mi…
Visit our website for more details:
www.HoustonHorrorFilmFest.com