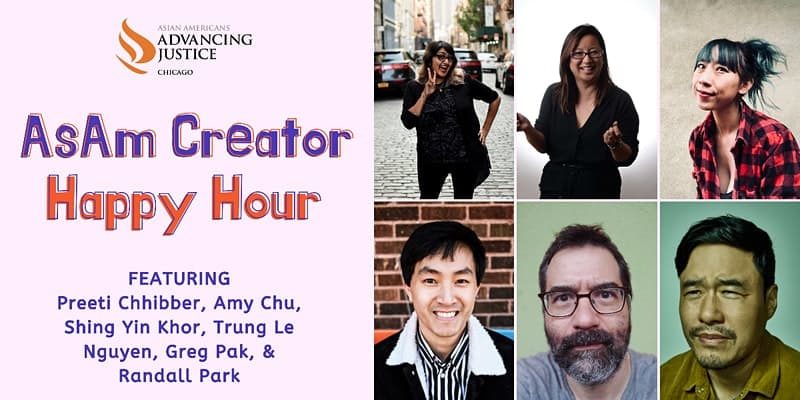 Join us on Thursday, April 22 at 8pm EST for AsAm Creator Happy Hour: 60 minutes of hijinks with Asian American writers, artists, and actors talking about how they got started, what they're working on, and where they're going in a fundraiser to support Asian Americans Advancing Justice | Chicago's bystander intervention training.
Register for free at the link…
ABOUT THE SPEAKERS:
Preeti Chhibber is a speaker, freelance writer, and author of A Jedi You Will Be, Avengers Assembly: The Sinister Substitute, and featured in the forthcoming anthology Sword Stone Table.
Amy Chu is a professional writer whose works include the Netflix series DOTA: Dragon's Blood, graphic novel Sea Sirens, and comics such as Sensational Wonder Woman, DMC, and KISS. Amy is also a former Executive Director of the Asian American Arts Alliance and Board Member of the Asian Women Giving Circle.
Shing Yin Khor is an installation artist and cartoonist exploring the Americana mythos and new human rituals. They are the author of The American Dream? and The Legend of Auntie Po.
Trung Le Nguyen is a Vietnamese American artist and author from Minneapolis. Trung has contributed work for Oni Press, Boom! Studios, and Image Comics, and recently released his first original graphic novel The Magic Fish.
Greg Pak is a Korean American comic book writer and filmmaker best known for his award-winning feature film Robot Stories and his comics Mech Cadet Yu and Planet Hulk.
Randall Park is an actor, comedian, writer, and director known for his role in the TV series Fresh Off the Boat and films including Always Be My Maybe and Ant-Man and the Wasp.