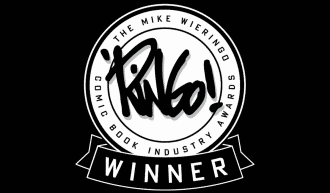 Comic creative professionals, publishers, retailers, and fans came together (virtually) Saturday night, October 24, 2020 to experience the comic book industry celebrating recognition of their peers, co-workers, and competitors at the 2020 Mike Wieringo Comic Book Industry Awards.
This year's Ringo Awards was sponsored by Cards, Comics & Collectibles, the Baltimore Comic-Con, and Mainframe Comic Con, as well as Bad Idea, BOOM! Studios, Geppi Family Enterprises, Rocketship Entertainment, Source Point Press, Tapas Media, and WEBTOON.
The Mike Wieringo Comic Book Industry Awards is an annual celebration of the creativity, skill and fun of comics. The nomination ballot is determined by fans and pros alike.
Geoff Johns, award-winning comic book writer of titles such as DC Comics' Stars and S.T.R.I.P.E. and Doomsday Clock, and screenwriter, Executive Producer, and Showrunner of The WB's Stargirl, honored the Ringo Awards as the 2020 keynote presenter at the event, sponsored by Geppi Family Enterprises.
Film and comics legend, Kevin Smith opened the show and introduced his friend, Geoff, as the keynote speaker.
Winners of the 2020 Mike Wieringo Comic Book Industry Awards are:
Fan Favorites:
Sponsored by Rocketship Entertainment:

Favorite Hero: Clove from SubZero (WEBTOON)
Favorite Villain: John from unOrdinary (WEBTOON)
Favorite New Series: Fangs
Favorite New Talent: Sinran
Favorite Publisher: Tapas Media
Jury and Fan Winners:
In addition, the Baltimore Comic-Con would like to thank those individuals who presented at this year's award ceremony, including: ceremony opener Kevin Smith; Keynote speaker Geoff Johns; Travis McIntire, Tom Akel, Gene Luen Yang, Todd Dezago, Craig Rousseau, Mark Waid, Matt Wieringo, Jill Thompson, and Jamar Nicholas. We would also like to thank John Gallagher for his contributions to our awards ceremony presentation, as well as Mainframe Comic Con for producing.
Please join us next year for the fifth annual Mike Wieringo Comic Book Industry Awards taking place at the 21st annual Baltimore Comic-Con on October 23, 2021, and keep an eye on our website and social media accounts for 2021 ballot information.