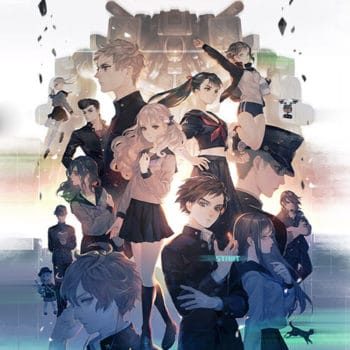 Nucleus, ATLUS, and Vanillaware proudly present an online only exhibit of 13 Sentinels: Aegis Rim concept art. Also featured will be unique posters created by 9 notable illustrators and inspired by iconic sci-fi imagery of the past.
On display on this website for 1 month only. September 22 – October 22, 2020
VIRTUAL RECEPTION / LAUNCH DAY (September 22)
Tune in to the Twitch stream on launch day September 22 at 10:00AM PST
Watch a live painting by artist Bryce Kho at 11:00AM PST
2 lucky stream attendees will win a FREE Playstation 4 console and an additional PS4 cover signed by Vanillaware
FEATURED ARTISTS

Ashly Lovett
Betty Jiang
Bryan Lee
Bryce Kho
Erin Vest
Ilya Kuvshinov
MizuCat
Patrick Leger
Qiuxin Mao
EVENT EXCLUSIVES
Nine unique 13 Sentinels: Aegis Rim illustrations will be available as limited edition prints.
Prints will be available for one month only.
Each print will be an edition size of 13.
ABOUT 13 SENTINELS: AEGIS RIM
Vanillaware, the storytellers behind Odin Sphere and Dragon's Crown, craft a sci-fi mystery epic spanning thirteen intertwining stories.
Uncover the truth and delve into a 2D sidescrolling adventure featuring gorgeous art and environments. Then, battle the kaiju in fast-paced, top-down combat. Customize the Sentinels with an arsenal of mechsuit weaponry, and fight to defend humanity!
For more information about 13 Sentinels, check out: atlus.com/13sentinels