Is 2020 the Year Without a Comic-Con? Not quite! While we are extremely bummed not to be seeing you all in person down in San Diego this year, we're rolling with the punches and working to bring the best of our would-have-been Comic-Con programming, new releases, announcements and exclusives directly to your screen! Plus, we're pumping up our annual web sale to give you better deals than ever before. So check it out, and we hope to see you next year for the real thing!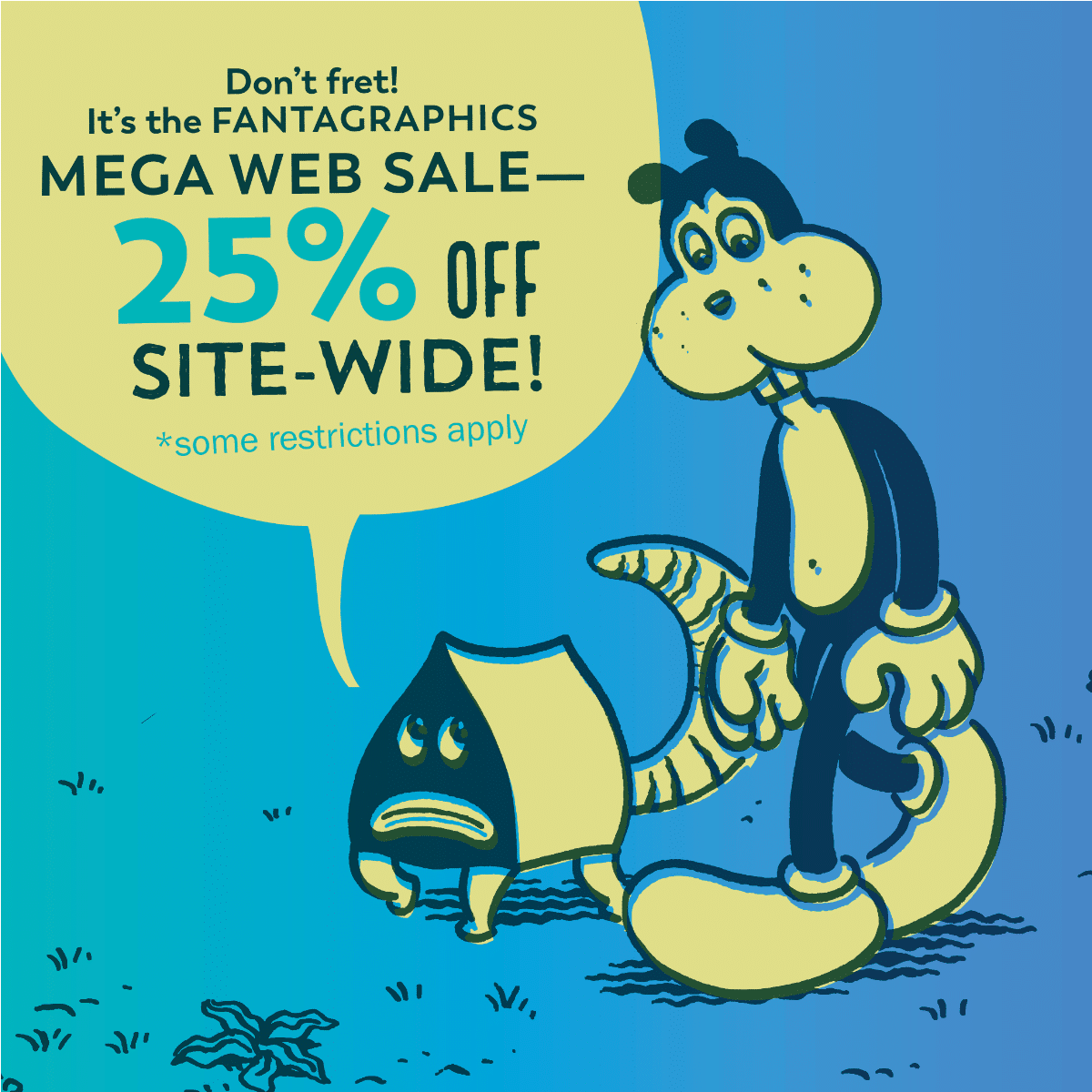 Cheer up, Frank! We may not be slinging books from the Comic-Con booth this year, but we're making up for it with an extra-deep discount during this year's web sale! From Wednesday, July 22nd to Sunday, July 26th, you can use coupon code SDCC for 25% off just about everything at Fantagraphics.com!
Follow us on Twitter, Facebook, and Instagram, where we will be posting highlights throughout the show!
Panels & Programming:
Thursday, July 7/23, 4:00pm — Teaching and Making Comics
Ebony Flowers (Hot Comb), Roman Muradov (Vanishing Act), Trina Robbins (Flapper Girls), and Sophie Yanow (The Contradictions) are four vital cartoonists who have taught classes on comics themselves. They speak with James Sturm (Off Season) about their teaching philosophy, and how teaching has transformed their perspectives on the comics canon and their own work. YouTube: https://youtu.be/I6A6OT1xr6U
Friday, July 7/24, 11:00am — TragiComics
Tom Gauld (Department of Mind-Blowing Theories), Simon Hanselmann (Bad Gateway), John Pham (J & K), Walter Scott (Wendy, Master of Art), and Rikke Villadsen (Cowboy) tackle complex subjects–and they are funny doing it! These five cartoonists speak to Graeme McMillan (The Hollywood Reporter) about how they use humor to process and respond to the difficulties and oddities of life. YouTube: https://youtu.be/UuQ66Yw7Td0
Friday, July 7/24, 2:00pm — I Am Not Okay With This: From the Page to the Screen!
Cartoonist Charles Forsman (I Am Not Okay With This, The End of the F***ing World), director Jonathan Entwistle (I Am Not Okay With This, The End of the F***ing World), and actor Wyatt Oleff (It, I Am Not Okay With This) trace the evolution of the critically-acclaimed Netflix series I Am Not Okay With This back to its beginnings as an original graphic novel! Moderated by the book's editor and Fantagraphics associate publisher, Eric Reynolds. YouTube: https://youtu.be/RhgZSUbXJE8
Saturday, July 7/25, 12:00pm — Spotlight on The Cloven: With Garth Stein and Matthew Southworth
This panel will spotlight the debut sci-fi graphic novel collaboration by author Garth Stein (The Art of Racing in the Rain) and cartoonist Matthew Southworth (Stumptown). These two pacific northwestern creators have teamed up to create a one-of-a-kind story steeped in its Seattle roots. The Cloven: Book One is the first installment of this dynamic, atmospheric, and wryly funny graphic novel trilogy by two bestselling and critically acclaimed storytellers. Moderated by the book's editor and Fantagraphics associate publisher, Eric Reynolds. YouTube: https://youtu.be/KQ-qOo1rGZw
Saturday, July 7/25, 6:00pm — Fantagraphics and IDW: Classic Comics Reprints
Classic comic reprints give readers of all ages a chance to read comic classics in new and exciting ways. Join moderator Karen Green (curator for comics and cartoons, Columbia University's Rare Book & Manuscript Library) and panelists Dean Mullaney (The Library of American Comics creative director), Peter Maresca (founder and publisher of Sunday Press), and Eric Reynolds (Fantagraphics associate publisher) for a celebration of comic classics. YouTube: https://youtu.be/7hoB7LgbjMU
Sunday, July 7/26, 6:00pm — Masters of Style: Woodring, Fleener, Muradov and Hernandez
The diverse but instantly recognizable styles of master cartoonists Jim Woodring (The Frank Book, Poochytown), Mary Fleener (Life of the Party, Billie the Bee), Roman Muradov (Vanishing Act), and Gilbert Hernandez (Love and Rockets) inspire many admirers and imitators. Join them for a discussion of line, color, abstraction, and the choice to hone (or not to hone) a single visual style of the course of a comics career. Moderated by Fantagraphics publisher Gary Groth. YouTube: https://youtu.be/2ybAhDDsMvQ