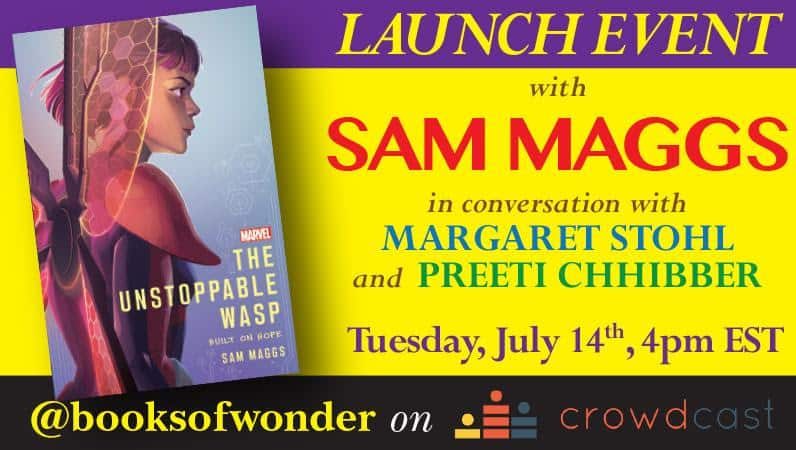 Press Release:
Join author SAM MAGGS, in conversation with MARGARET STOHL and PREETI CHHIBBER, on
Crowdcast
 Tuesday July 14th at 4pm (EST) as we celebrate the launch of her new release 
The Unstoppable Wasp
!
Nadia Van Dyne is new to this. New to being a Super Hero, new to being a real friend and stepdaughter, new to running her own lab, and new to being her own person, far away from the clutches of the Red Room — the infamous brainwashing/assassin-training facility. She's adjusting well to all of this newness, channeling her energy into being a good friend, a good scientist, and a good Super Hero. It's taking a toll, though, and Nadia's finding that there are never quite enough hours in a day. So, when she's gifted a virtual assistant powered by the most cutting-edge A.I. technology, Nadia jumps at the opportunity to "do less, experience more". The device really works! But, while she has more time to pursue her passion projects and focus on new discoveries, Nadia's will soon discover that this new device is not what it seems. This thrilling adventure finds Nadia confronting her past as she tries to shape her future, and discovering that when she teams up with the people who love her the most, they're totally Unstoppable.
Don't miss SAM MAGGS, with MARGARET STOHL and PREETI CHHIBBER, on 
Crowdcast
 as she shares this thrilling tale based on the Marvel comic series, talks all things Marvel with her fellow authors, and answers questions during the live feed! Don't forget to register for the event on the 
Crowdcast
 page in order to join. Books of Wonder will also have signed bookplates available when you purchase a copy of The 
Unstoppable Wasp
! Ages 12 & Up, Tuesday July 14th, 4pm (EST) via Crowdcast.