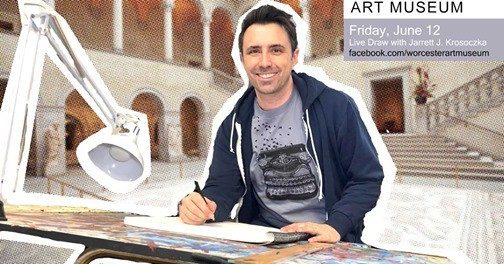 Press Release:
Draw along LIVE with New York Times-Bestselling cartoonist and Worcester Art Museum alum Jarrett J. Krosoczka (Hey Kiddo, Lunch Lady, Star Wars: Jedi Academy)! Join us on WAM's Facebook page this Friday, June 12th at 6:00 PM EST, as part of our 24-hour virtual Give-A-Thon!
Jarrett will draw requests from the audience, collaborate with the viewers, and offer cartooning tips.
Proceeds from Friday's Give-a-thon will make possible WAM's exhibitions, events and educational programming, including studio classes and scholarships – we hope you'll tune in!