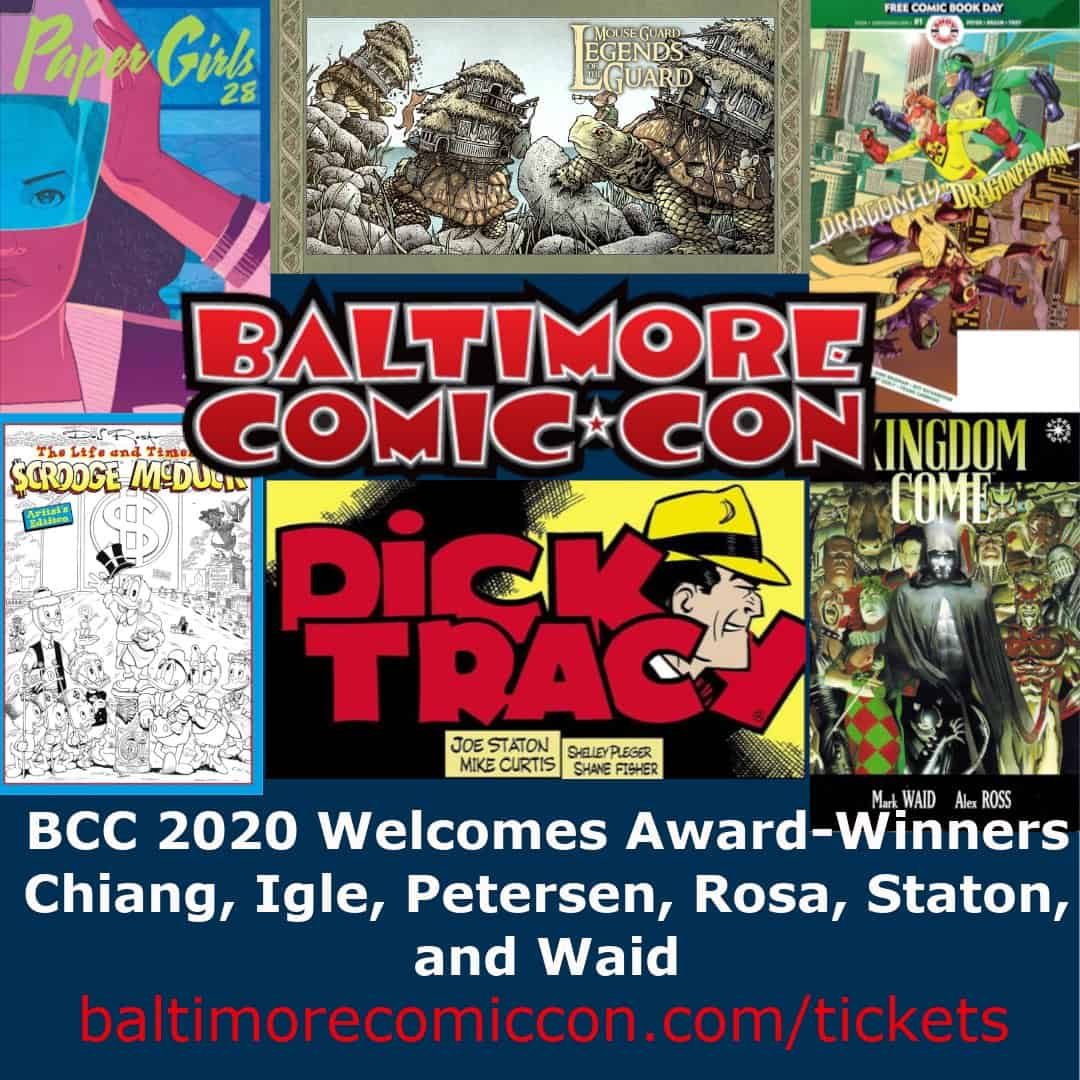 Press Release:
Join us for the 21st annual Baltimore Comic-Con in the Inner Harbor at the Baltimore Convention Center October 23-25, 2020. The Baltimore Comic-Con features many comics luminaries, including industry award winners Cliff Chiang, Jamal Igle, David Petersen, Don Rosa, Joe Staton, and Mark Waid! VIP, General Admission, and Fan Experience Tickets are now on sale.
Cliff Chiang began his career as an assistant editor at DC's Vertigo imprint before moving into freelance illustration. His previous work includes runs on Human Target, Green Arrow & Black Canary, Wonder Woman with Brian Azzarello, and the Eisner Award-winning Paper Girls, co-created with Brian K. Vaughan. Cliff is currently writing and drawing a book for DC's Black Label.
A recipient of the 2011 Inkpot Award for Outstanding Achievement in Comic Art, Jamal Igle is the writer/artist/creator of Molly Danger for Action Lab Entertainment. The co-creator of Venture with writer Jay Faerber and the penciller/co-creator of The Wrong Earth for AHOY Comics, Jamal is a comic industry veteran. Jamal's detailed pencils have graced books as varied as The Narrative of the Life of Frederick Douglas and the all ages action miniseries Race Against Time, as well as mainstream hits such as G.I. Joe, Iron Man, Spider-Man, and Green Lantern. Jamal has served as the series artist for popular runs on Firestorm the Nuclear Man, Nightwing, Tangent: Superman's Reign, Superman, Supergirl, and Zatanna for DC Comics, Noble Causes for Image Comics, and a four-issue run on New Warriors for Marvel Comics. He's done just about everything from acting on the small screen and voiceovers for commercials, packaging books for Scholastic, and serving as storyboards artist for Roughnecks: Starship Trooper Chronicles and Max Steel: MX1 for Sony Animation. Jamal is also a popular guest lecturer on the subjects of comics and animation. Currently, Jamal is working on White, the sequel to the hit series Black from Black Superpowers/Black Mask Studios, coming late Summer 2019.
David Petersen is a cartoonist and children's book illustrator who launched his career with a self-published issue of his series Mouse Guard in 2005, when it was then picked up by Archaia, who continues to publish the Eisner and Harvey Award-winning series. Petersen has also worked on covers for Teenage Mutant Ninja Turtles and The Dark Crystal. He's illustrated an edition of Kenneth Grahame's Wind in the Willows for IDW and his artwork also graced the cover for the 2012 Baltimore Comic-Con program, as well as the show-exclusive t-shirt. In 2008, David won the Eisners for Best Publication for Kids (Mouse Guard Fall 1152 & Winter 1152) and Best Graphic Album – Reprint (Mouse Guard Fall 1152 Hardcover). In 2010, he was nominated for a Harvey Award for Best Artist (Mouse Guard: Winter 1152).
Eisner Award-winning Don Rosa can hardly be mentioned without evoking images of Walt Disney's Donald Duck, Scrooge McDuck, and the rest of the Duck family. Heir apparent to Carl Barks as the Duck master, he was responsible for approximately 90 stories before his retirement from working with Disney in 2006. You can see his beautiful contributions in IDW's Don Rosa's The Life and Times of Scrooge McDuck, Vol.1: Artist's Edition.
Joe Staton has been drawing comics since he started working for Charlton Comics in 1971, where he co-created E-Man and Michael Mauser. Though the bulk of his work has been for DC Comics, at last count, Staton has worked for at least 30 publishers and 100 different editors. Among his many comics credits are Action Comics, Green Lantern, The Legion, Classics Illustrated, and various incarnations of Batman. During his time on Green Lantern, he co-created several GLs, including Kilowog, Arisia, and Salakk. He also designed GL Guy Gardner's "bad boy" look. More recently, with his writer-wife Hilarie, he produces medical comics such as Pete Learns All About Crohn's and Colitis and Amy Goes Gluten-Free. In 1998, he received the Eisner Award for his work on World's Finest: The Superman-Batman Adventures. He penciled over 100 issues of the Cartoon Network's Scooby Doo comic. He illustrated a graphic novel adaptation of Ayn Rand's Anthem for NAL and a graphic biography of Ronald Reagan. Since 2011, working with writer Mike Curtis, Joe has been the regular artist for the long-running Dick Tracy newspaper strip (available online at www.gocomics.com/dicktracy). Dick Tracy received Harvey Awards in 2013, 2014, and 2015 for Best Syndicated Strip or Feature.
The multiple Harvey and Eisner Award-winning Mark Waid has been the voice behind dozens of series that have resonated throughout comics fandom and the creative community alike. His more acclaimed runs include DC Comics' The Flash, Kingdom Come, JLA: Year One, JLA, Legion of Super-Heroes, and Superman: Birthright, Marvel Comics' Captain America, Black Widow, Fantastic Four, Amazing Spider-Man, The Indestructible Hulk, and Daredevil, BOOM! Studios' Incorruptible and Irredeemable, Archie Comics' Archie, and his creator-owned works Empire and Potter's Field. He currently serves as Publisher (U.S.) at Humanoids.
"We really do have an amazing guest list," said Marc Nathan, show promoter for the Baltimore Comic-Con. "These are not the only award-winning guests in the room by a long shot, but this group of creators is a great representation of the recognition our guests garner. Their collective works include self-published titles, titles for the big publishers, small publishers, and defunct publishers, and are very broad in terms of comics genres. Our fans demand great guests, and we're happy to give them what they want!"
In the coming weeks, look for more announcements from the Baltimore Comic-Con. We are looking forward to highlighting our guests, the Ringo Awards, industry exclusives, and programming. The latest developments can always be found on our website, Twitter, Instagram, and Facebook pages.