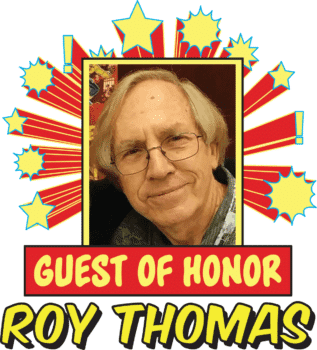 Plastic City Comic Con is proud to announce this years guest of Honor! The great "ROY THOMAS" will be joining us this August for his only New England Appearance in 2020!!
Roy Thomas is a legendary comic book writer and editor, who was Stan Lee's protege and first successor as editor-in-chief of Marvel Comics. He is known for co-creating some of comics' greatest characters such as Wolverine, Carol Danvers, Morbius, Vision, Iron Fist, Luke Cage, Valkyrie, Ultron, Red Guardian, Black Knight and so many more. He also introduced the pulp magazine heroes Conan and Red Sonja along with the sci-fi fantasy Star Wars to Marvel Comics. Roy has had lengthy writing stints on Marvel's X-Men and Avengers, and DC Comics' All-Star Squadron and Infinity, Inc., among many other titles, books, and a few movies. He was inducted into the Will Eisner Comic Book Hall of Fame in 2011, currently edits the comics-history magazine Alter Ego and is working on a few upcoming Marvel projects.
Saturday, August 1st, 10-6 || $5 Admission || Kids 12 & Under FREE || FREE PARKING || Come meet the Legend!!
Visit the website HERE!