Jeepers Creepers castmates Justin Long, Gina Philips, and Jonathan Breck reunite at Texas Frightmare Weekend 2020 on May 1-3, 2020!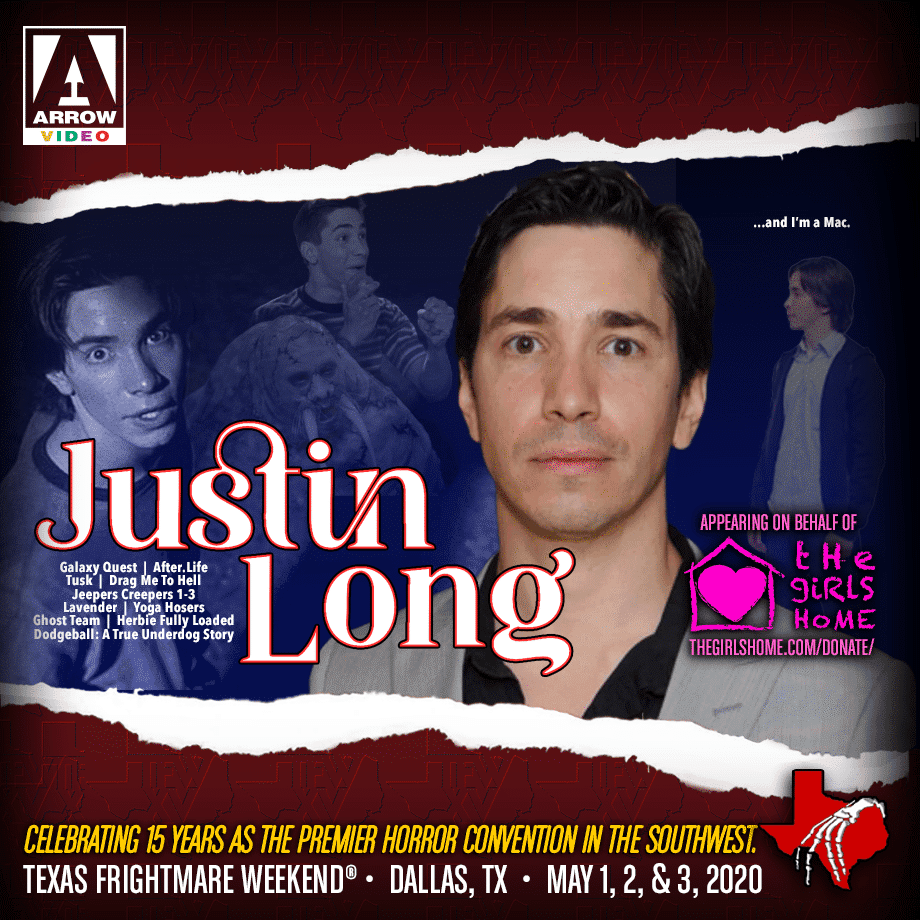 Justin Long is likely best known to horror fans for his roles in Jeepers Creepers and Tusk. Long also starred in Idiocracy, Waiting…, DodgeBall: A True Underdog Story, The Break-Up, Crossroads, Galaxy Quest, Dreamland, and Live Free or Die Hard. He was also a regular on the NBC TV series Ed (2000–04), playing socially awkward Warren P. Cheswick. He was the voice of the character Alvin in Alvin and the Chipmunks, Alvin and the Chipmunks: The Squeakquel, Alvin and the Chipmunks: Chipwrecked, and Alvin and the Chipmunks: The Road Chip. He also played the main character in the comedy film Accepted. In 2007, he co-starred with Bruce Willis as a "white-hat hacker" in Live Free or Die Hard. Long is known for his depiction of a Mac in Apple's "Get a Mac" campaign. Long also had a role in Zack and Miri Make a Porno, where he plays Brandon St. Randy, a gay porn star. In 2009, he starred in He's Just Not That into You along with co-star Ginnifer Goodwin and After.Life opposite Liam Neeson and Christina Ricci. He also provided the voice of Humphrey in Alpha and Omega, starring with Hayden Panettiere. Also in 2010, Long starred in the comedy film Going the Distance with Drew Barrymore. He was cast as a one-armed Civil War veteran in Robert Redford's The Conspirator.
Gina Philips landed her first supporting film role in Deadly Invasion: The Killer Bee Nightmare. In 2001, Philips was cast as a lead in the 2001 horror film Jeepers Creepers. Her next film was the American comedy-drama The Anarchist Cookbook. The film follows a young honors student-turned-anarchist and his group of anarchist friends, living peacefully in a Dallas commune, until a nihilist appears with a copy of The Anarchist Cookbook and completely destroys their way of life. In 2004, she starred in the horror films Dead & Breakfast and Jennifer's Shadow. Philips again played a lead in a low-budget horror film, Ring Around the Rosie as a young woman plagued by horrible visions and dreams. The next year she starred in the horror film The Sickhouse and the Lifetime film My Baby Is Missing. In 2011, she began work on the Jennifer Lynch film Chained. She also appeared in the third Jeepers Creepers film, Jeepers Creepers 3.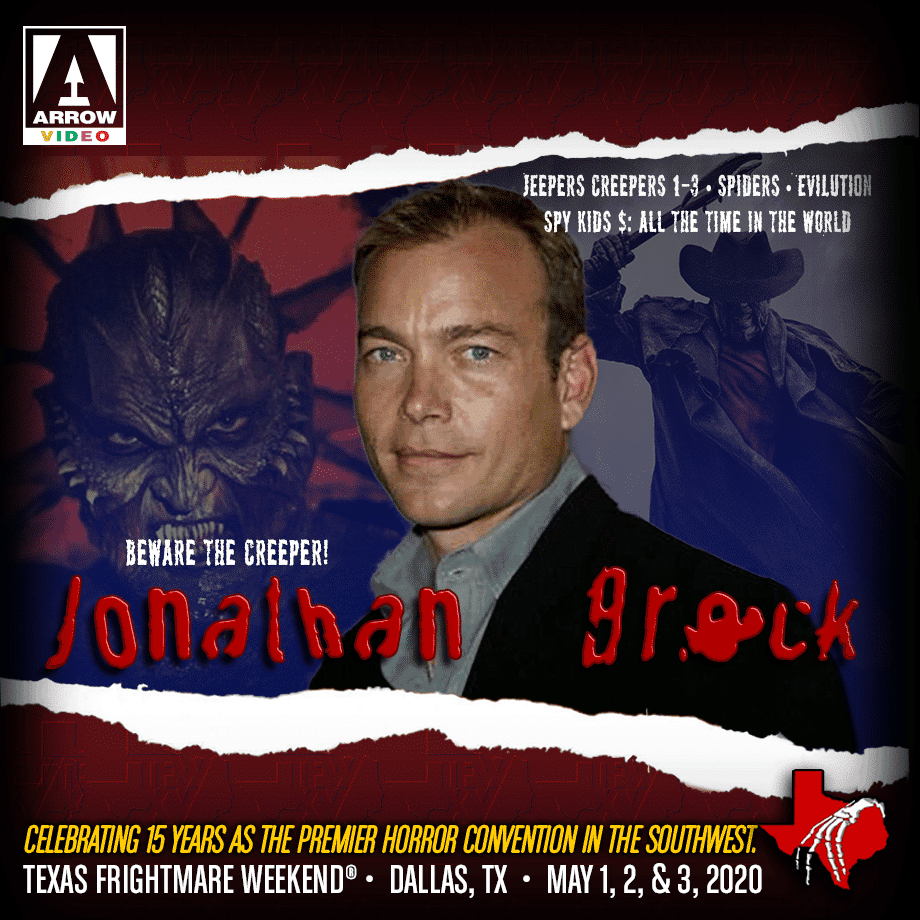 Beginning his career as a stage actor, Jonathan Breck is most successful for his role as the demonic antagonist, The Creeper, in all three Jeepers Creepers movies. He has also appeared in numerous film and television productions including Beat Boys, Beat Girls, Good Advice, Spiders, I Married a Monster, JAG, Star Trek: Voyager, V.I.P., and Push.
Texas Frightmare Weekend 2020 will be held on on May 1st – 3rd. For further information please go to the website: www.texasfrightmareweekend.com