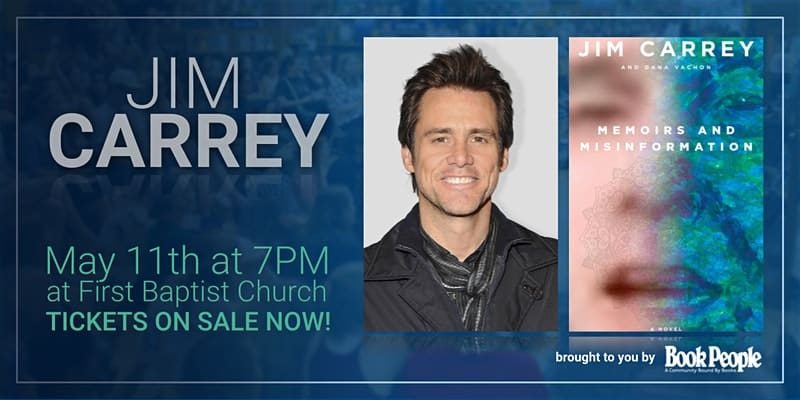 Press Release: 
Join BookPeople in welcoming two-time Golden Globe winner and star of such classics as The Truman Show and Dumb and Dumber, Jim Carrey, along with co-author Dana Vachon, on Monday, May 11, 2020 at 7:00 PM to discuss the former's first ever novel, Memoirs and Misinformation.
Memoirs and Misinformation is a fearless semi-autobiographical novel, a deconstruction of persona. In it, Jim Carrey and Dana Vachon have fashioned a story about acting, Hollywood, agents, celebrity, privilege, friendship, romance, addiction to relevance, fear of personal erasure, our "one big soul," Canada, and a cataclysmic ending of the world—apocalypses within and without.
Event Guidelines
This event takes place at First Baptist Church of Austin at 901 Trinity Street, Austin, TX 78701
A ticket includes a copy of Memoirs and Misinformation and admits one person into the venue. It is $29.95 plus taxes and fees.
Books are not available for pick-up at BookPeople prior to the event.
There will be no signing line at the event.
Doors open at 6PM. Seating is general admission; first come, first served.
Refunds are only available up to 7 days before the event.
Please note: If you purchase a ticket and cannot attend the event, we will hold a copy of Memoirs and Misinformation for you at BookPeople for 30 days after the date of the event.