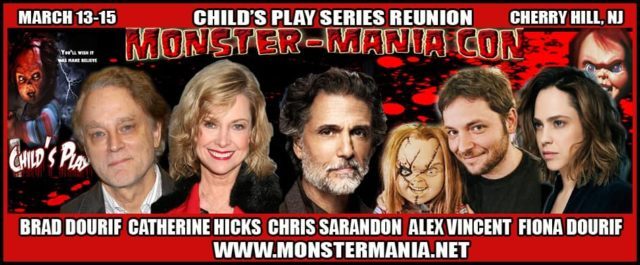 "Hi, I'm Chucky. Wanna play?"
CHILD'S PLAY REUNION AT MONSTER-MANIA CON 45!
Please join us for MONSTER-MANIA CON 45 the weekend of MARCH 13-15 at the Crowne Plaza Hotel in Cherry Hill, NJ!
Don't miss your chance to meet the stars of the original 1998 horror classic CHILD'S PLAY! Joining us for this reunion are BRAD DOURIF, who voiced CHUCKY and also played the role of the killer CHARLES LEE RAY; CATHERINE HICKS who played the role of KAREN BARCLAY; ALEX VINCENT who starred as the young ANDY BARCLAY and CHRIS SARANDON who played the role of DETECTIVE MIKE NORRIS.
Also joining the cast of the original film is FIONA DOURIF who starred in the role of NICA PIERCE in two sequels in the series, 2013's CURSE OF CHUCKY and 2017's CULT OF CHUCKY.
Wolf Studios will also be offering the pro photo op with these and the other stars, including a group photo op with the stars of the original film and also a group photo of them along with FIONA.
You can purchase yours today at:
https://purchase.growtix.com/events/landing/Monster_Mania_45_Photo_ops
Tickets for the show are already selling very quickly! Visit our ticket webpage and order your tickets today!
Ticket webpage: https://purchase.growtix.com/eh/Monster_Mania_Con_45