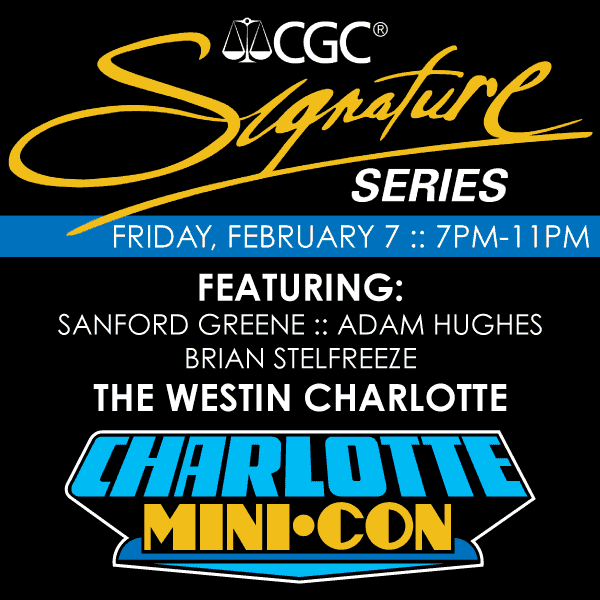 Press Release:
The CHARLOTTE MINI-CON is hosting a VIP *CGC Signature Series* Event on Friday, February 7th from 7 PM – 10 PM!
This EXCLUSIVE VIP EVENT will take place at the Westin the evening BEFORE the Charlotte Mini-Con and will grant its attendees the opportunity to have items signed, witnessed and submitted directly to CGC as part of the CGC Signature Series. There will be a cash bar available for patrons of this event and attendees are welcome to stay and socialize with your favorite creators.
Individual Artist Rates for CGC Signature Series Autographs for this Event are as follows:
Sanford Greene – $5.00 Per Signature
Adam Hughes – $20.00 Per Signature
Brian Stelfreeze – $5.00 Per Signature
The exact location of this event will be revealed to ticket holders prior to the event via email.
This VIP TICKET will also grant you EARLY ACCESS to the Charlotte Mini-Con on Saturday, February 8th.
The Charlotte Mini-Con is brought to you by Heroes Aren't Hard To Find, the same folks who put on Heroes Convention. It will be a great time for the whole family!