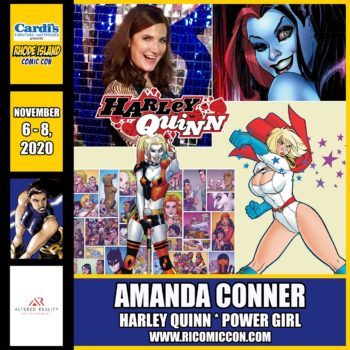 Please welcome Amanda Conner to Rhode Island Comic Con, presented by Cardi's Furniture & Mattresses, coming November 6-8 at the Rhode Island Convention Center & Dunkin' Donuts Center Providence! 
Amanda's works include Vampirella, Painkiller Jane, as well as creator-owned projects such as Gatecrasher (with co-creators Jimmy Palmiotti and Mark Waid) and The Pro (with co-creators Jimmy Palmiotti and Garth Ennis). Her work for DC Comics includes CODENAME KNOCKOUT, BIRDS OF PREY, TERRA, HARLEY QUINN, a well-regarded run on POWER GIRL and BEFORE WATCHMEN: SILK SPECTRE.
Buy tickets at www.ricomiccon.com!