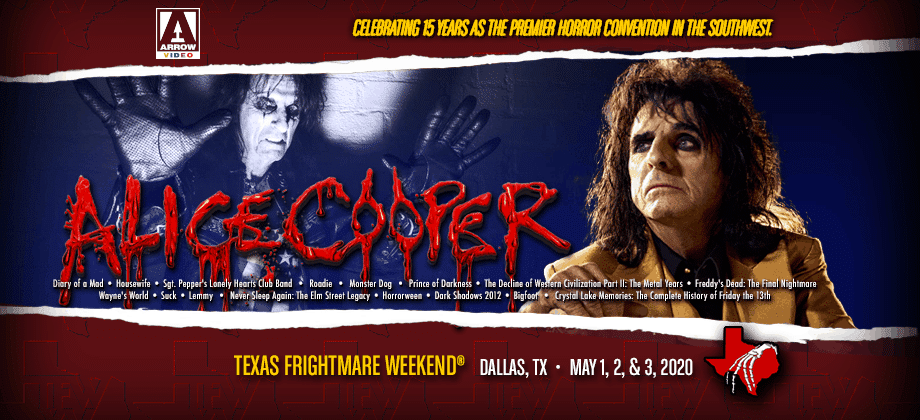 Press Release:
Please join Texas Frightmare Weekend in welcoming the architect of shock rock Alice Cooper​ to our May 1-3, 2020 event! Alice pioneered a grandly theatrical brand of hard rock that was designed to shock. Drawing equally from horror movies, vaudeville, and garage rock, the group created a stage show that featured electric chairs, guillotines, fake blood and boa constrictors.
Alice also appeared in the horror films Monster Dog and John Carpenter's Prince of Darkness, and recorded songs for the soundtracks to Roadie, Class of 1984, Friday the 13 Part VI: Jason Lives (with TFW 2020 guest C.J. Graham) and Wes Craven's Shocker.
Cooper's most memorable movie appearance was as himself in Wayne's World in 1991. He also played (fittingly) Freddy Krueger's wicked step-father in Freddy's Dead: The Final Nightmare, and appeared on Gene Wilder's TV series Something Wilder as well as on That '70's Show. The 90's also saw the release of the albums "Hey Stoopid," "The Last Temptation," and "Fistful of Alice," a live album.
Texas Frightmare Weekend 2020 will be held on on May 1st – 3rd. For further information please go to the website: www.texasfrightmareweekend.com