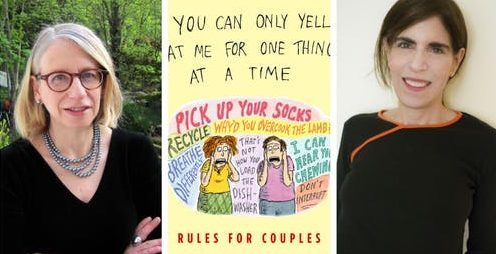 Patricia Marx and Roz Chast will appear at the Somerville Armory on Thursday, January 16, 2020 at 7:30 PM to discuss and sign their new book You Can Only Yell at Me for One Thing at a Time: Rules for Couples.
Patricia Marx has been contributing to The New Yorker since 1989. She is a former writer for "Saturday Night Live" and "Rugrats," and is the author of several books. Marx was the first woman elected to the Harvard Lampoon. She has taught screenwriting and humor writing at Princeton, New York University, and Stonybrook University. She was the recipient of a 2015 Guggenheim Fellowship.
Roz Chast has loved to draw cartoons since she was a child growing up in Brooklyn. She attended Rhode Island School of Design, majoring in Painting because it seemed more artistic. However, soon after graduating, she reverted to type and began drawing cartoons once again. She is the author of the #1 New York Times bestselling memoir Can't We Talk About Something More Pleasant?
Arts at the Armory
191 Highland Avenue, Somerville, Massachusetts 02143
(617) 718-2191