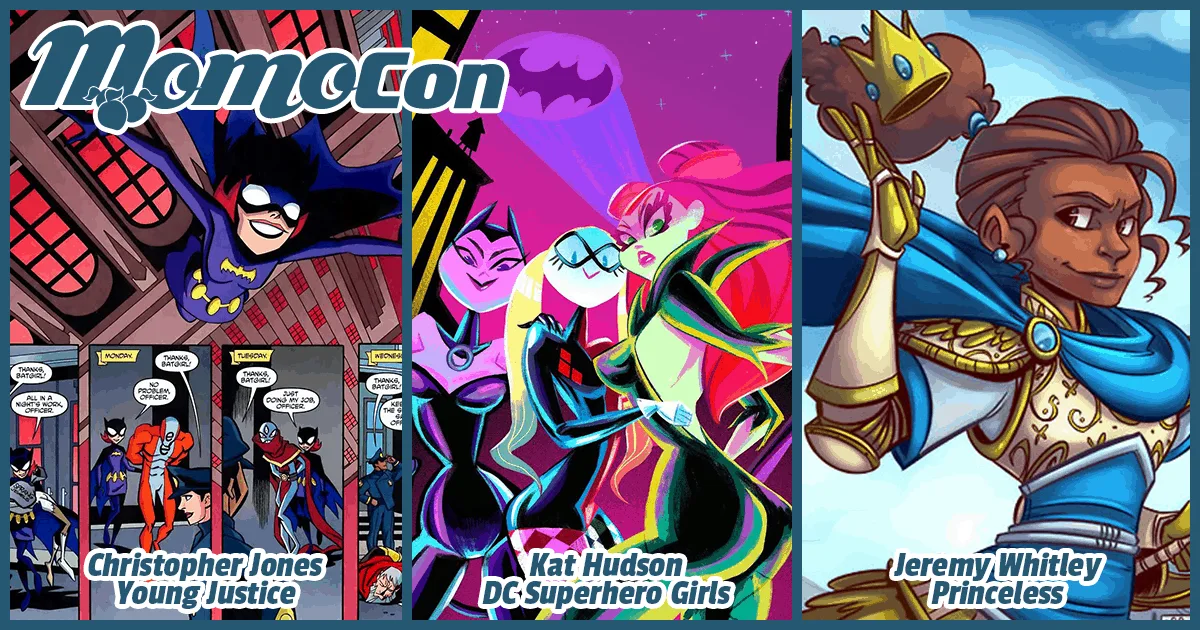 Comic Guests Christopher Jones, Kat Hudson, and Jeremy Whitley are headed to MomoCon on May 21-24th, 2020 at the Georgia World Congress Center and Omni Hotel.
Christopher Jones is a comic book artist best known for his work on Young Justice for DC Comics and on Doctor Who for Titan Comics, and is now doing storyboard work for Season 4 of the Young Justice animated TV series. Christopher's recent comics work includes Svengoolie Meets the DC Universe, Marvel Action: Spider-Man, and a Young Justice Outsiders prequel comic written by series co-creator/co-producer Greg Weisman.
As a character designer, Kat Hudson has had clients that include Disney, Dreamworks, and Hasbro, In the past she has been a character designer for Fx Network's Archer, and is currently a designer for Warner Brothers Animation on the reboot of DC Superhero Girls.
Jeremy Whitley is the writer and creator of the award winning comics "Princeless" and "Raven: Pirate Princess" as well as the author of the acclaimed Marvel series "The Unstoppable Wasp". He has written for Marvel's "Future Foundation," "Avengers," "Champions," "All-New X-Men," and more. He is also one of the principle writers of the "My Little Ponies" comics series, including helming the upcoming season 10, picking up from the end of the award winning television series. His other credits include: Rainbow Brite, Vampirella, Sea of Thieves, and Thor Vs. Hulk: Champions of the Universe.
For further information please go to the website: momocon.com