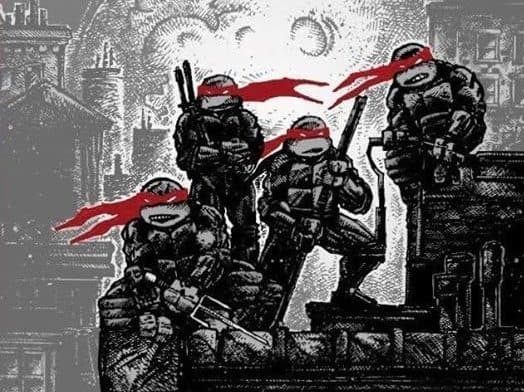 Artist David Baron signs the exclusive variant cover of Teenage Mutant Ninja Turtles #100 at Brave New World Comics on Saturday, December 21, 2019 from noon till 4 PM.
Purchase of our store exclusive TMNT #100 variant is required to get in line for Baron's signing at the special in-store event price of $20. Purchase of the exclusive includes a complimentary signed & numbered mini print, featuring a full color version of our cover image! Baron will sign any and all books you bring him, including his BATMAN WHO LAUGHS, DETECTIVE COMICS, GREEN ARROW issues and more!
During the signing, Baron is providing $10 sharpie head sketches of the five Turtles. These special $10 Turtle head sketches are ONLY available during the signing event, and can be sketched either on the back of our TMNT #100 exclusive, the cover as a remark, or any other TMNT item. Must be present at the event to purchase the special $10 Turtle head sketch.
Baron is also offering a limited number of 25 pre-order commissions for the event, drawn on a high quality blue-line bookplate board exclusive to the event! The pre-order commission prices below include a copy of the BNWC TMNT #100 exclusive and complimentary print detailed above. These limited bookplates are numbered to 25, and Baron will draw on them your choice of the five Ninja Turtles, Splinter, Shredder, or a Foot Clan Ninja! Deadline to pre-order a commission is December 7. Examples of each sketch price point can be found in the discussions thread of this event. DM to preorder — slots are extremely limited!
*$60 for pencil drawing
*$80 for B&W
*$100 for B&W, grey wash and colored mask
*$125 for Full Color
Brave New World Comics
22722 Lyons Avenue #6, Santa Clarita, CA 91321
(661) 259-4745