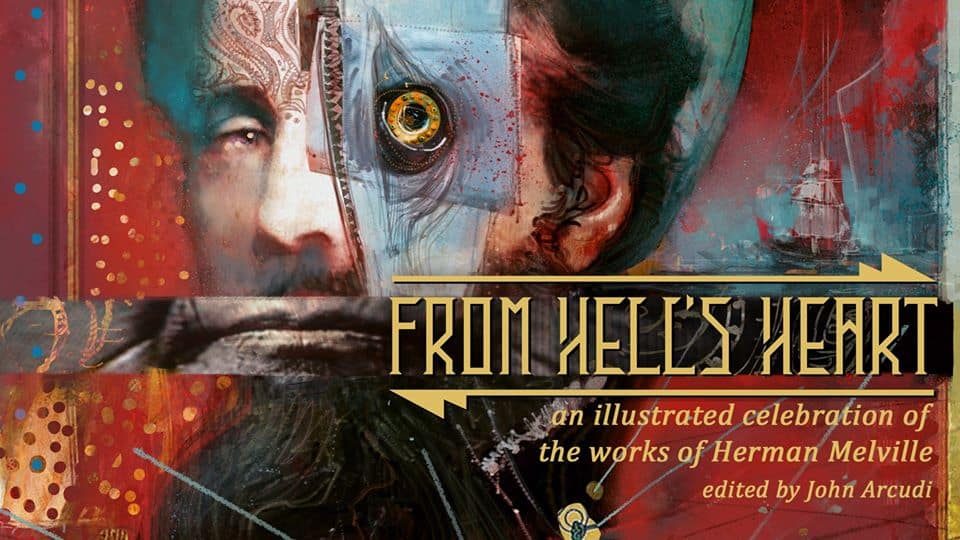 John Arcudi, Matt Sheean, Farel Dalrymple, and Brandon Graham appear at Broadway Books on Friday, November 21st at 7:00 PM.
To mark the occasion of the bicentennial of Herman Melville's birth (August 1st, 1819), John Arcudi has brought together fifty-seven world renowned artists and their gorgeous, brand new illustrations for Moby Dick, Bartleby, Pierre, The Confidence Man, Typee, Billy Budd, and White Jacket, as well as excerpts from Melville's letters. A short passage from Melville's writing accompanies each illustration, giving context to the story. Artists include Matt Kish, Dave Malan, Hunt Emerson, Evan Cagle, Brahm Revel, Ryan Sook, and Cosimo Miorelli.
John Arcudi is a Portland comic book writer, best known for his work on The Mask and B.P.R.D. and for his series Major Bummer; his most recent work, Rumble, is illustrated by David Rubin and published by Portland-based Image Comics. The son of a renowned professor of Italian literature, Arcudi grew up in Buffalo, New York during the turbulent 1970s. He attended Columbia University, where he majored in English and devoured the works of Edgar Rice Burroughs and William Faulkner with equal enthusiasm.
Portland artists Matt Sheean, Farel Dalrymple, and Brandon Graham will join Arcudi to talk about the art and sign copies of From Hell's Heart. Sheean, an illustrator and comics creator, is best known for his work on the popular, artistically innovative titles Prophet and Island. He also collaborated with Malachi Ward on two collections: Expansion and Ancestor. Dalyrymple, the critically acclaimed artist of Omega the Unknown (Marvel Comics 2010) by Jonathan Lethem, is also the creator of Proxima Centauri, It Will All Hurt, Pop Gun War: Chain Letter and Pop Gun War: Gift, The Wrenchies, and Delusional. Graham, the grandson of pin-up artist Bill Randall, grew up in Seattle around a lot of graffiti and comics. His books include King City, Multiple Warheads, Prophet, and Arclight; he was the co-founder and editor of Island magazine.
Broadway Books
1714 Broadway Blvd, Portland, Oregon 97232
(503) 284-1726