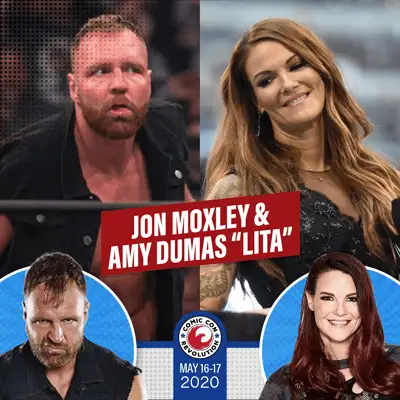 Press Release:
Comic Con Revolution 2020 is proud to announce two of wrestling's most exciting stars will be joining us on May 16-17th! Jon Moxley and Amy 'Lita' Dumas will be part of the entire CCR weekend along with popular comics creators and entertainers.
Jon Moxley is currently signed to wrestling's hottest brand, All Elite Wrestling (AEW) and the current IWGP United States Champion in New Japan Pro Wrestling. Moxley has held over 20 championship titles all over the world during his professional wrestling career. WWE fans will remember Moxley as Dean Ambrose, one third of the dominant group known as The Shield. Hell be making a rare meet-and-greet appearance in California at Comic Con Revolution. Pre-orders for autographs and photo ops will be available soon.
Amy Dumas, better known by her ring name, Lita is also scheduled to attend Comic Con Revolution. She performed as a wrestler with WWE from 2000 to 2006, then went on to be inducted into the WWE Hall of Fame in 2014. Lita has made many marks on the wrestling industry but her most trailblazing moment came in December 2004 when she, along with Trish Stratus, became the first woman to main event Monday Night Raw. Amy continues to make appearances for WWE as a legend. Fans will not want to miss out on meeting this icon of women's wrestling.
Current guest list includes: Christ Arrant, Chiara Bautista, Sandy King Carpenter, Ming Chen, Kevin Conroy, Gerry Conway, Brandon Easton, Carlos Ferro, Maile Flanagan, John Glover, Michael Golden, Gene Ha, Larry Hama, Beverly Johnson, Angel Medina, Jonboy Meyers, Dustin Nguyen, James O'Barr, Carla Perez, Whilce Portacio, Andrea Romano, John Romita, Jr, Mairghread Scott, Jim Shooter, Cat Staggs, Arthur Suydam, Angi Viper, Renee Witterstaetter, Timothy Zahn, with many more guests to be added in the coming months.
Tickets: Click here to get your tickets NOW!
For more information about Comic Con Revolution Ontario 2020 head over to our website: www.ComicConRevolution.com