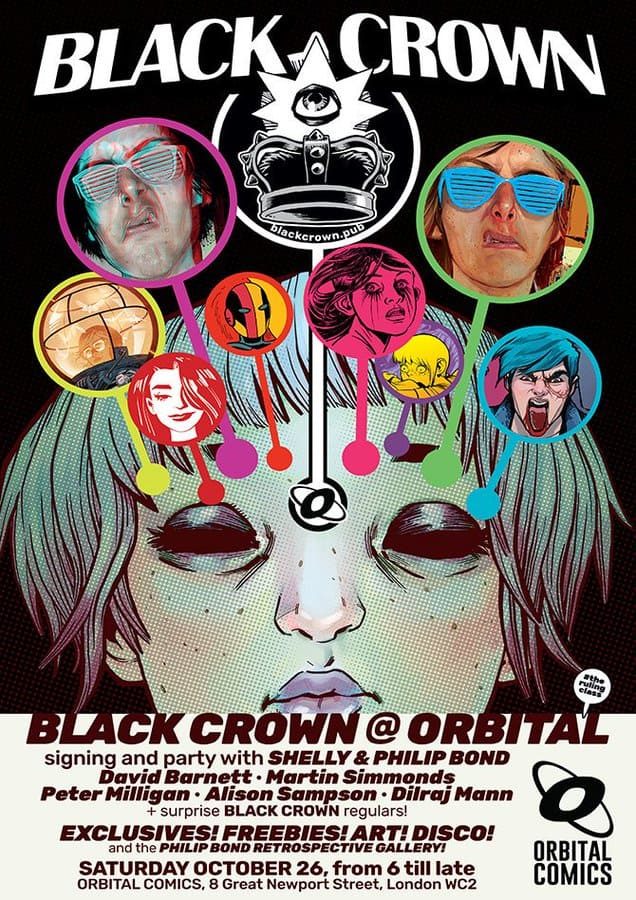 Orbital Comics proudly invites you to an enormous event with none other than curation operation Black Crown!
Founded in 2017 by Shelly Bond, Black Crown's mission has been to harbour an environment wherein creators and creations commingle, corrupt and correlate to new comic book series. This alternative comics manifesto has lead to runaway successes, like Punks Not Dead, Kid Lobotomy, Assassinistas, Lodger, Femme Magnifique and of course Black Crown Quarterly.
The show kicks off at 6pm on Saturday 26th October with a mega signing, featuring a wealth of creators from the Black Crown talent pool, including: Peter Milligan, David Barnett, Martin Simmonds, Alison Sampson, Dilraj Mann, and mroe surprise guests.
The party also doubles as launch night for a very special Philip Bond Retrospective Exhibition which will be adorning the walls of the Orbital Gallery. The exhibition runs until 27 November.
Orbital Comics
8 Great Newport Street, London WC2H 7JA, United Kingdom
020 7240 0591