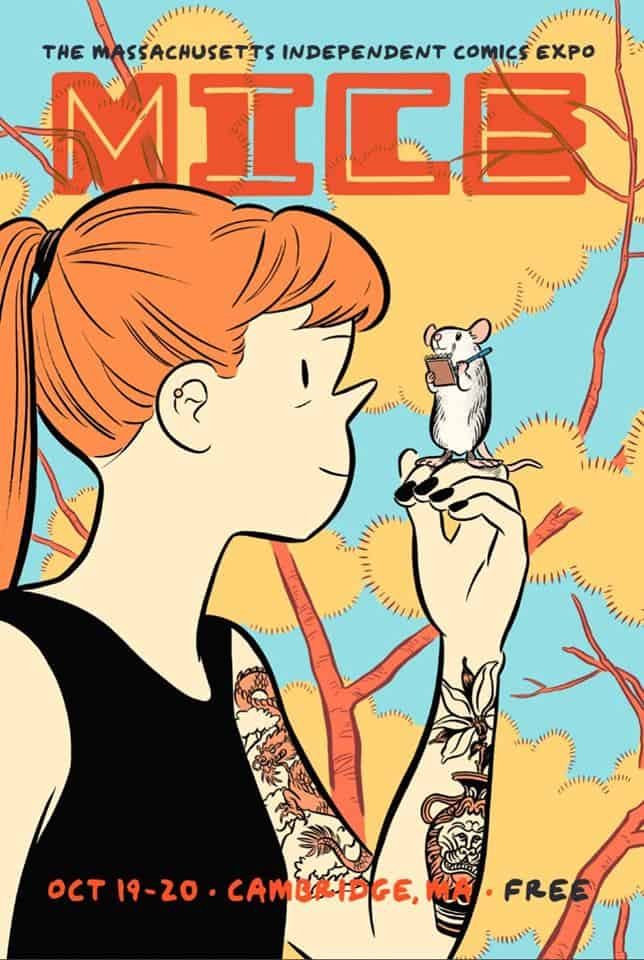 Press Release:
Regional talent and visiting artists highlight the 10th annual Massachusetts Independent Comics Expo, presented by the Boston Comic Arts Foundation and hosted by Lesley University's College of Art and Design. Admission is free to the public.
MICE is back! On October 19 – 20, 2019 independent graphic novelists and cartoonists will converge on University Hall at 1815 Massachusetts Ave. in Cambridge's Porter Square. The event is free, family friendly, and offers a weekend of activities as the Boston area's only show dedicated to independent and alternative comics.
MICE to proud to feature the following guests from the world of independent comics and graphic novels: Jaime Hernandez (Love and Rockets), Diane Noomin (Drawing Power: Stories of Sexual Violence, Harassment and Survival), Ronald Wimberly (LAAB Magazine), Ellen T. Crenshaw (Kiss Number 8), Colleen AF Venable (Kiss Number 8), Kurt Ankeny (Pleading With Stars), Cathy G. Johnson (The Breakaways), and Erica Henderson (The Unbeatable Squirrel Girl, Assassin Nation) and Travis Dandro (King of King Court)!
MICE attendees are invited to discover their new favorite comic books from over 200 comic creators from the Boston area and beyond. The exhibition area at MICE will present a wide range of art and books: hand-made mini-comics and zines, anthologies, graphic novels, art prints, and sketches. Panel discussions will provide insightful conversations about the world of contemporary comics and graphic novels. Artists will share techniques, tips, and tricks for creating your own comics in a variety of workshops for all ages and skill levels.
MICE will be held at Lesley University's University Hall at 1815 Massachusetts Avenue in Porter Square. The hours of the show are Saturday, October 19th, 10 am – 6 pm, and Sunday, October 20th, 11 am – 5 pm. Admission is free.
For more information please go to the website: www.micexpo.org