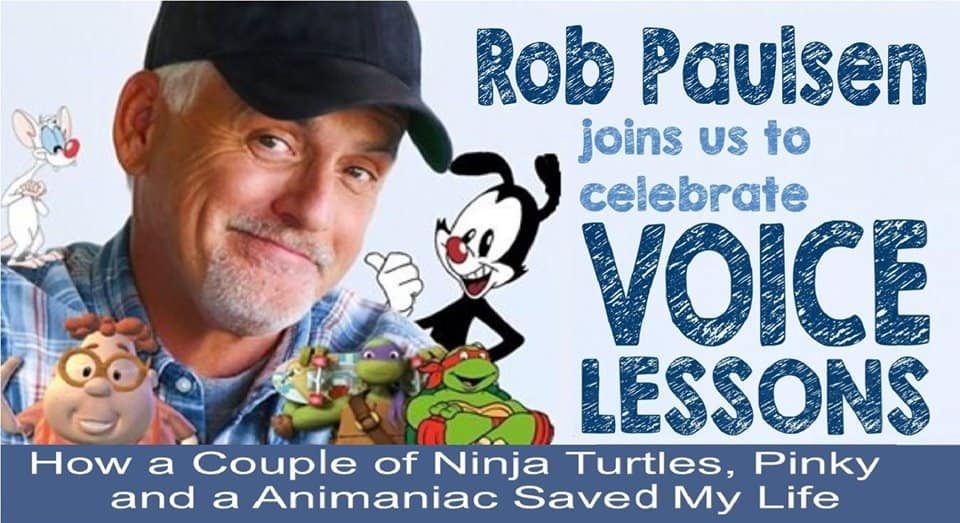 Rob Paulsen appears on Thursday, October 10, 2019 at 7 PM in conversation best-selling author Michael Fleeman and fellow voice-actor Kevin Conroy, best known for his portrayal of Batman!
Rob Paulsen is one of Hollywood's busiest, most talented, and most passionate performers. If you don't know him by name, you will know him by the many characters he has brought to life: Pinky from Pinky and the Brain and Yakko from Animaniacs, the tough, but loveable, Raphael from the original animated Teenage Mutant Ninja Turtles, and many more.
So, you can imagine how terrifying it must have been when Rob was diagnosed with throat cancer, putting his entire livelihood in jeopardy and threatening to rob the world of all his lovable characters that filled our youth and adulthood with humor and delight.
Aside from his many current and past roles as a voice actor that total to over 2,000 credits, Rob Paulsen is the creator, host, and producer of the highly successful Talkin' Toons podcast. He has received a Daytime Emmy, three Annie Awards, and a Peabody. In addition to his many appearances in the convention circuit, he is currently on tour with Animaniacs Live. Rob also frequently speaks on behalf of several charities benefitting children and military veterans.
Michael Fleeman is a bestselling author, television writer-commentator, and college teacher. He covered the Hollywood beat, major crime stories, and sensational trials for People and the Associated Press, and has written a dozen true crime books, including the New York Times bestseller The Stranger in My Bed. He's now on-air expert commentator and writer for In Plain Sight, a weekly true crime show on Investigation Discovery, and appears on episodes of Deep Undercover on Netflix. Fleeman also has taught journalism and mass communications as an adjunct professor at Cal State Northridge, El Camino Community College and UCLA Extension.
Kevin Conroy is a Juilliard graduate who has toured with "The Acting Company", went on the national tour of "Deathtrap", performed at the Old Globe Theatre in San Diego, California in "Hamlet" and "A Midsummer Night's Dream", Broadway productions of "Eastern Standard" and "Lolita," and played the title role in "Hamlet" in the New York Shakespeare Festival. Kevin was also in the daytime soap opera Another World and in the TV movie Covenant, was a series regular on Ohara, and on Tour of Duty, before starring in a series of television movies. He is best known for providing the title role in Batman: The Animated Series.
Admission Options: Buy a copy of Voice Lessons or a $15 gift card to attend this event. Please note that payment is required for all online event orders at the time of checkout. The event will be located in the Strand's 3rd floor Rare Book Room at our store at 828 Broadway at 12th Street. Doors open 30 minutes before the start of the event.
Strand Book Store
828 Broadway, New York, NY, 10003-4805
(212) 473-1452