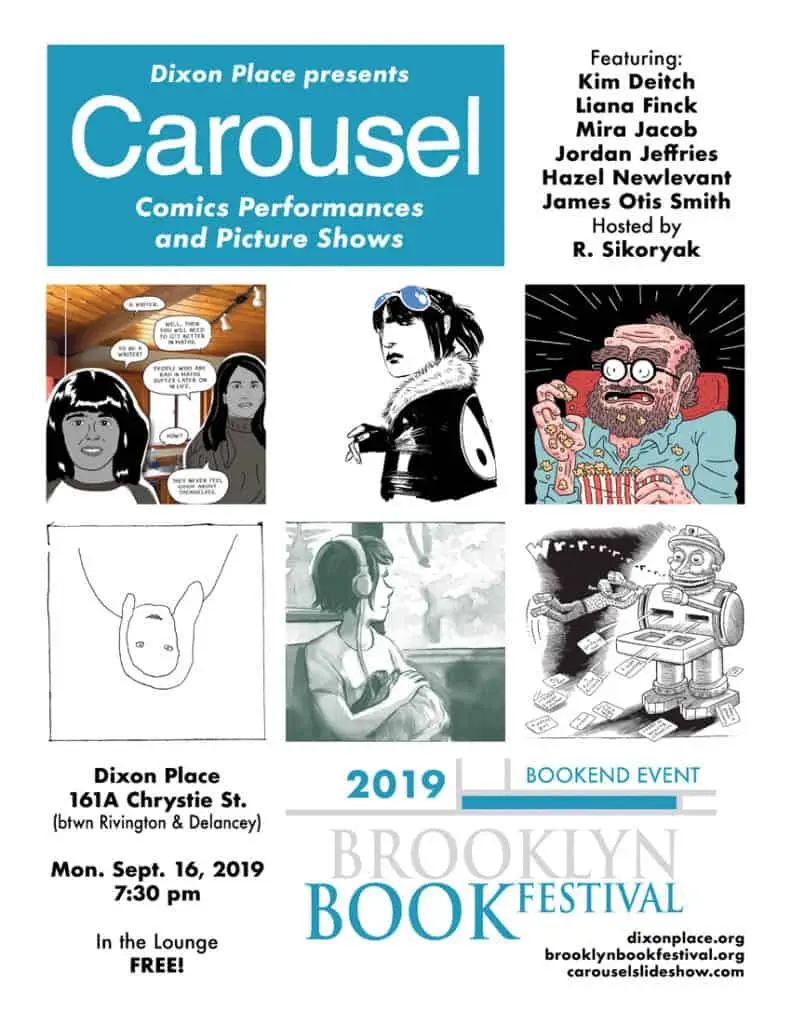 Press Release:
Dixon Place presents: Carousel: Comics Performances
A special event for the Brooklyn Book Festival.
Admission is free!  
Presentations of graphic novels and comics as performed by the artists: Kim Deitch, Liana Finck, Mira Jacob, Jordan Jeffries, Hazel Newlevant, and James Otis Smith. Hosted by R. Sikoryak
The event will be followed by a book signing.
Monday, Sept 16, 2019 at 7:30 pm
In the Lounge at Dixon Place
161A Chrystie Street (btwn Rivington & Delancey), NYC
THIS IS AN OFFICIAL 2019 BROOKLYN BOOK FESTIVAL EVENT
BIOS:
Kim Deitch has a reserved place at the first table of underground cartoonists. He got his start doing comic strips for the East Village Other in 1967 and in 1969 he succeeded Vaughn Bodé as editor of Gothic Blimp Works, the Other's underground comics tabloid. His Boulevard of Broken Dreams was named one of Time's "100 Best Graphic Novels Ever Written" and he has been awarded an Eisner and an Inkpot Award.
Liana Finck is the author of Passing for Human and a regular contributor to The New Yorker. She is a recipient of a Fulbright Fellowship, a New York Foundation for the Arts Fellowship, and a Six Points Fellowship for Emerging Jewish Artists. Her collection of cartoons from her Instagram feed, Excuse Me, will be published in September.
Mira Jacob is the author and illustrator of Good Talk: A Memoir in Conversations. Her critically acclaimed novel, The Sleepwalker's Guide to Dancing, was a Barnes & Noble Discover New Writers pick, shortlisted for India's Tata First Literature Award, longlisted for the Brooklyn Literary Eagles Prize, and translated into seven languages. Her writing and drawings have appeared in The New York Times, Electric Literature, Tin House, Literary Hub, Guernica, and Vogue, and she has a drawn column on Shondaland. She teaches at The New School, and she is a founding faculty member of the MFA Program at Randolph College. She lives in Brooklyn.
Jordan Jeffries is a cartoonist currently living in the Hudson Valley with his wife and their two cats. His books include The Complete Matinee Junkie: Five Years at the Movies, Just One of the Girls, So Young, and more.
Hazel Newlevant is a Portland-raised, Queens-based cartoonist whose comics include include If This Be Sin, Sugar Town, and No Ivy League. They have edited and published the anthologies Chainmail Bikini and Comics for Choice.
James Otis Smith is a Brooklyn-based video editor, and writer & illustrator of comics and children's books, including GANG OF FOOLS, and SHOWTIME AT THE APOLLO with writer Ted Fox.
R. Sikoryak is the cartoonist responsible for Masterpiece Comics, Terms and Conditions, and The Unquotable Trump (published by Drawn & Quarterly). He's drawn for The New Yorker, The Nation, MAD, and The Nib. He's hosted Carousel since 1997.