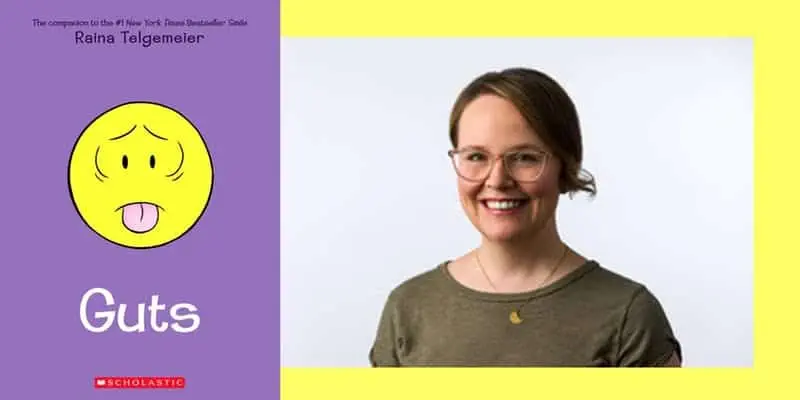 Cartoonist Raina Telgemeier appears in conversation with Gene Luen Yang on Sunday, September 22, 2019 at 1:00 PM to present her new graphic novel GUTS. Get tickets here…
Hicklebee's will be hosting bestselling and award winning author Raina Telgemeier at Willow Glen High School as she brings her new book Guts, to the forefront.
There will be a presentation and conversation with renowned graphic artist Gene Luen Yang of American Born Chinese fame. There will be a meet and greet line for both authors after the presentation.
Raina Telgemeier is the #1 New York Times bestselling, multiple Eisner Award-winning creator of Smile and Sisters, which are both graphic memoirs based on her childhood. She is also the creator of Drama and Ghosts, and is the adapter and illustrator of four Baby-sitters Club graphic novels. Raina lives in the San Francisco Bay Area. To learn more, visit her online at goRaina.com.
Author illustrator Gene Luen Yang is known for his award winning comic books and graphic novels. American Born Chinese (First Second Books) was a National Book Award finalist, as well as the winner of the Printz Award and an Eisner Award. His two-volume graphic novel Boxers & Saints won the Los Angeles Times Book Prize. Other works include the Secret Coders series (with Mike Holmes), Avatar: The Last Airbender series and more. He inspired book enthusiasts as the country's National Ambassador for Young People's Literature and in 2016 he was named a MacArthur Foundation Fellow. To learn more, visit him at geneyang.com
Willow Glen High School
2001 Cottle Avenue, San Jose, CA 95125