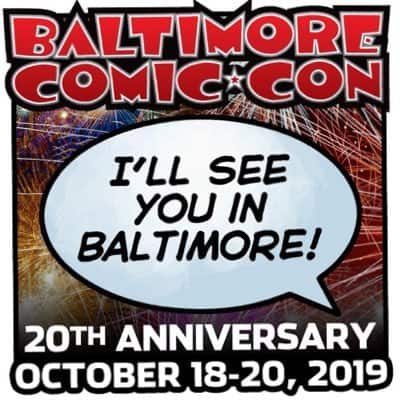 Press Release:
Baltimore Comic-Con takes great pride in presenting some of Marvel Comics' most venerable creators: John Beatty, Klaus Janson, Tom Palmer, John Workman, and Mike Zeck on October 18-20, 2019 at the Inner Harbor's Baltimore Convention Center.
John Beatty got his first break working for Marvel and DC Comics when he was 19. The year was 1980 and the decade that followed is now referred to as the "Bronze Age" of comic books! Beginning with short filler stories for DC Comics anthology books, Beatty soon found himself as the finisher on the JLA working over George Perez. However, the run was limited to 4 issues due to Marvel Comics offering him the inking duty over his favorite character, Captain America, with his long-time mentor and collaborator, Mike Zeck. Coming off of a 2.5 year run on Cap, Zeck and Beatty were tagged to do the art on the first major clash of heroes and villains, Marvel Super Heroes: Secret Wars! which saw the change of Spider-Man's costume to black in issue #8 of the series, something that turned into a bigger deal as Venom. After Secret Wars, the team of Zeck and Beatty produced the hit limited mini-series and a graphic novel starring Marvel's newest "A-List" character, The Punisher. The last major work the team produced was Captain America Annual 8. Covers for Captain America, G.I. Joe, and many other titles were a staple of work for the team during the '80s. Beatty continued projects for Marvel, including Thanos Quest, Squadron Supreme, Venom: The Madness, and others. At DC Comics, John was the inker for Batman: Year 3 and the first 5 issues on the new Batman title, Legends of the Dark Knight. Eight years of work on various Batman titles with writer Doug Moench and penciler Kelley Jones became well-known in the '90s, including the last 2 installments on the Vampire/Batman GN series, other Batman graphic novels, and a 3-year run on the monthly Batman title, recently reprinted in two beautiful hardcover editions. Eventually turning his sights on DC Licensing, Beatty has produced vector ink and color for style guides, from movies to animated series to products such as toys, cards, packaging, and clothing, among other things. This is uncredited work, but is still being used. Traditional inking is still Beatty's main love, and he continues to practice it and teach those around him who want to learn.
Klaus Janson's storied career begins back in the 1970s, when he got his first professional comics credit on Marvel's Jungle Action, and he's built a long line of comics work ever since, with noteworthy penciling or inking runs on titles such as Marvel's Defenders and Daredevil, and DC's Detective Comics and Batman: The Dark Knight Returns. His artistic skills see him regularly as a penciller, inker, and colorist, and he regularly teaches courses, both publicly at venues such as the School of Visual Arts, and privately at comics publishing events and conventions. You can find examples of his recent work on DC Comics' Superman, Convergence: Batman and Robin, and New Challengers, and Marvel's Amazing Spider-Man.
Tom Palmer is best known for his significant contributions as an inker to many noteworthy titles and runs. He worked over some of the largest artists in the industry on Marvel's The Avengers, X-Men, Doctor Strange, Daredevil, Tomb of Dracula, and X-Men: The Hidden Years. His approach to inking changed the way the industry approached the task, working in a style closer to a painter than how the typical inker completed their jobs at the time. He is highly regarded by the artists whose pencils he inked, including luminaries such as Neal Adams, Gene Colan, John Buscema, and John Byrne.
John Workman managed to turn a love for the comics form into a career. During the past five decades, he has held the position of editor, writer, art director, penciler, inker, colorist, letterer, production director, and book designer for various companies. He created (with some help from Bhob Stewart and Bob Smith) the offbeat stories in Wild Things (with much of that material having first appeared in Star*Reach and Heavy Metal) and both wrote and drew the comics series Sindy, Fallen Angels, and Roma. In 1991, he reflected on model Bettie Page in Betty Being Bad (Eros), and later produced the hardbounds Heavy Metal: 25 Years of Classic Coversand Innocent Images: The Sexy Fantasy Females of Viper and Kiss, as well as The Adventures of Roma, a reformatted graphic novel version of his earlier series. He continues to write and draw and to do a whole lot of lettering for a number of comics companies on an international level.
Mike Zeck began his storied career in comics with Charlton Comics with their animation-related line of titles before moving to Marvel Comics to leave an indelible mark. Zeck provided art to unforgettable characters and titles such as 1987's "Kraven's Last Hunt" in the Spider-Man titles, "Circle of Blood" in The Punisher, and the classic Secret Wars featuring Zeck's design on the classic black costume for Spider-Man (and later adopted by Venom). Zeck's work has graced the pages and covers of Aquaman, Batman: Legends of the Dark Knight, Green Lantern, G.I. Joe, G.I. Joe: Special Missions, Lobo, Deathstroke The Terminator, The Eliminator, and too many titles to mention here. His creator-owned project Damned, appeared from BOOM! Studios.
"The influence generated by these five guys alone is moving," said Marc Nathan, show promoter for the Baltimore Comic-Con. "Each one of these artists have made significant contributions to Marvel Comics in particular, as well as comics in general, and the stories you love to read simply wouldn't be the same without them. We're fortunate to have them with us this year, and the fans will undoubtedly agree!"
Visit www.baltimorecomiccon.com/tickets for more information and to purchase your advanced tickets!
In the coming weeks, look for more announcements from the Baltimore Comic-Con. We are looking forward to highlighting our guests, the Ringo Awards, industry exclusives, and programming. The latest developments can always be found on our website, Twitter, Instagram, and Facebook pages.