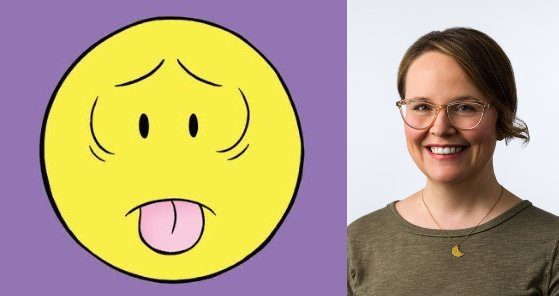 Press Release:
Join us for a special presentation by Raina Telgemeier, bestselling author of Smile, Sisters, Drama and The Baby-Sitters Club graphic novels, on Monday, September 30, 2019 at 7 PM! Raina will be sharing behind-the-scenes stories about how she came to write her amazing graphic novels, and the childhood memories that inspired her new books Guts.
A drawing demonstration and book signing will follow. Please note that Raina will only be able to sign one copy of Guts per ticket holder. (Ages 8+) * Tickets go on sale August 28th at 9:30 am *
ABOUT THE BOOK:
A true story from Raina Telgemeier, the #1 New York Times bestselling, multiple Eisner Award-winning author of Smile, Sisters, Drama, and Ghosts!
Raina wakes up one night with a terrible upset stomach. Her mom has one, too, so it's probably just a bug. Raina eventually returns to school, where she's dealing with the usual highs and lows: friends, not-friends, and classmates who think the school year is just one long gross-out session. It soon becomes clear that Raina's tummy trouble isn't going away… and it coincides with her worries about food, school, and changing friendships. What's going on?
Raina Telgemeier once again brings us a thoughtful, charming, and funny true story about growing up and gathering the courage to face — and conquer — her fears.
Raina Telgemeier is the #1 New York Times bestselling, multiple Eisner Award-winning creator of Smile and Sisters, which are both graphic memoirs based on her childhood. She is also the creator of Drama and Ghosts, and is the adapter and illustrator of four Baby-sitters Club graphic novels. Raina lives in the San Francisco Bay Area. To learn more, visit her online.
FirstOntario Arts Centre Milton
1010 Main Street East, Milton, Ontario L9T 6H7
+1 905-878-6000