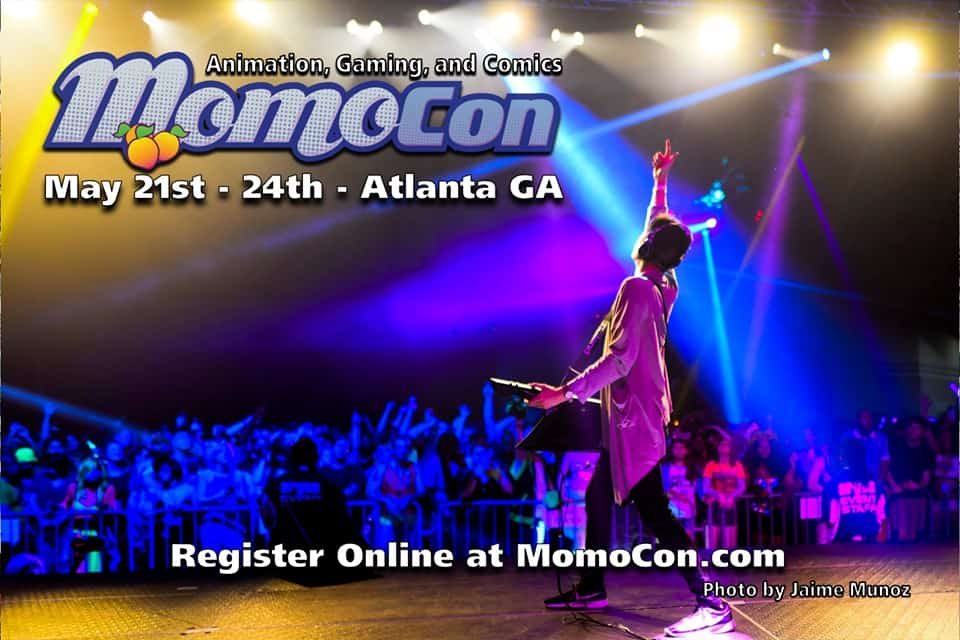 MomoCon has announced Hayden Daviau, Giancarlo Volpe, Christopher Wehkamp, and Alejandro Saab as the first guests for their 2020 convention on May 21st – 24th.
Hayden Daviau grew up in the world of performance arts and began her journey of acting in musical theatre, children's theatre, and show choir. She is best known for her roles as 'Priestess' in Goblin Slayer, 'Koenji' in The Helpful Fox Senko-San, 'Mariko Komiya' in Boogiepop & Others, 'Sachie' in MIX: Meisei Story, 'Young Vanessa' in Black Clover, 'Batard' in Ulysses Jeanne d'Arc and the Alchemist Knight, 'Liesse' in Conception, and 'Kyanna' in HuniePop, and many others like Fruits Basket, Fire Force, ENDRO!, and Kakuriyo -Bed & Breakfast for Spirits!
Giancarlo Volpe has over 20 years experience in the animation industry, directing on various high profile television shows including Avatar: The Last Airbender, Star Wars: The Clone Wars, and Star Vs the Forces of Evil. He was also producer on Green Lantern: The Animated Series and most recently executive producer on the Netflix original animated series, The Dragon Prince.
Christopher Wehkamp brings characters to life in anime and video games for studios like FUNimation Entertainment, Sentai Filmworks, Gearbox Games, Hi-Rez Studios, Big Fish Games and more. His popular roles include Shota 'Eraserhead' Aizawa (My Hero Academia), Majora (Dragon Ball Super), Susumu Kodai (Star Blazers: Space Battleship Yamato 2199), Takehisa Hinawa (Fire Force), Miles Edgeworth (Ace Attorney), Mori Ougai (Meiji Tokyo Renka), Phil (Attack on Titan), Shingo Shoji (Initial D: Racer), Inazuma (One Piece), Mest Gryder and Ren (Fairy Tail) and both Kisho Arima and Tatara (Tokyo Ghoul).
Alejandro Saab is a professional Voice Actor and Youtube Influencer! As an influencer he has over 480,000+ subscribers on YouTube with over 170 million+ combined views! But his true passion is acting! Alejandro has found much success as a voice actor, having done work at a multitude of studios like FUNimation, Bang Zoom Entertainment!, Okratron, RoosterTeeth, etc. for various anime/video games. He's lent his voice to projects such as Dragon Ball Legends as Shallot, My Hero Academia as Naomasa Tsukauchi, My First Girlfriend is a Gal as Junichi Hashiba, Nanbaka as Uno, Akiba's Trip: The Animation as Tamotsu Denkigai, Tokyo Ghoul RE: as Takeomi Kuroiwa, Card Captor Sakura: Clear Card as Takashi Yamazaki, Nomad of Nowhere as Red Manuel, RWBY as Henry Marigold and many others!
Mark your calendars! We are looking to have the MomoCon 2020 hotels go live on Monday, August 5th at 3:00 PM! The hotels page is updated with rates for the 2020 event as well!
For further information please go to the website: momocon.com