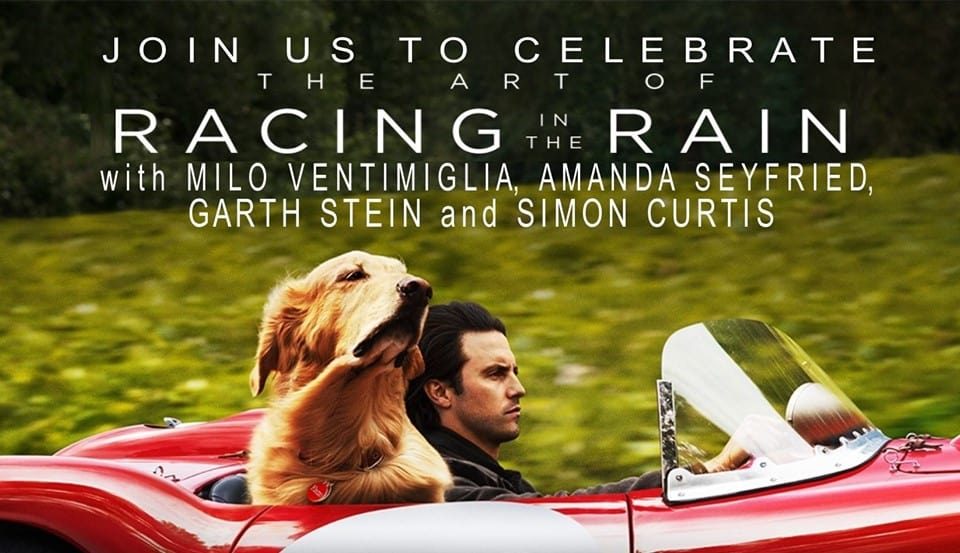 Join Barnes & Noble at the Grove on Friday, August 2, 2019 at 7:00 PM for a Special Event to celebrate 20th Century Fox new film The Art of Racing in The Rain with the films stars Milo Ventimiglia and Amanda Seyfried, author Garth Stein and director Simon Curtis.
Dog lovers believe their canine family members understand language, comprehend events, have opinions, exude loyalty. In The Art of Racing in The Rain, wise old dog Enzo Swift shares thoughts about the life experiences which prepared him to protect his family in times of greatest need.
Based on the best-selling novel by Garth Stein, THE ART OF RACING IN THE RAIN is a heartfelt tale narrated by a witty and philosophical dog named Enzo (voiced by Kevin Costner). Through his bond with his owner, Denny Swift (Milo Ventimiglia), an aspiring Formula One race car driver, Enzo has gained tremendous insight into the human condition and understands that the techniques needed on the racetrack can also be used to successfully navigate the journey of life. The film follows Denny and the loves of his life – his wife, Eve (Amanda Seyfried), their young daughter Zoe (Ryan Kiera Armstrong), and ultimately, his true best friend, Enzo.
This event is a photo op with Milo Ventimiglia, Amanda Seyfried, Garth Stein and Simon Curtis with purchase of a presigned copy (by Garth Stein) of "The Art of Racing in the Rain: Movie Tie in edition".
This is a wristbanded event.
A wristband will be issued on a first come, first serve basis to customers who purchase "The Art of Racing in the Rain: Movie Tie in edition" from Barnes & Noble in The Grove beginning August 2nd
• Limit 1 wristband per book
• Book will be pre-signed by Garth Stein only
• Photo will be taken by our staff with your camera
• No personal photography
• No memorabilia please
• Check Back for more Details as they Become Available
Barnes & Noble – The Grove
189 The Grove Dr, Ste K 30, Los Angeles, CA 90036
(323) 525-0270