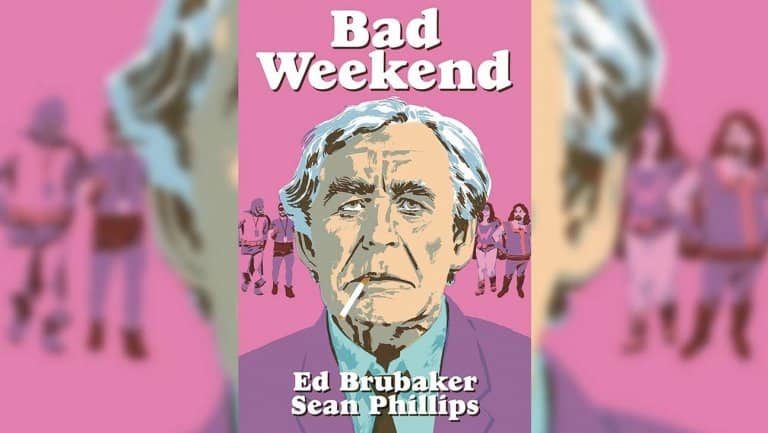 Ed Brubaker appears in conversation with Paul Scheer and special guest Nicolas Winding Refn at Skylight Books on Thursday, August 1, 2019 at 7:30 PM to present and sign BAD WEEKEND.
Hal Crane should know, he's been around since practically the beginning. Stuck at an out-of-town convention, waiting to receive a lifetime achievement award, Hal's weekend takes us on a dark ride through the secret history of a medium that's always been haunted by crooks, swindlers, and desperate dreamers. BAD WEEKEND-the story some are already calling the comic of the year from its serialization in CRIMINAL #2 and #3-has been expanded, with several new scenes added and remastered into a hardcover graphic novel, in the same format as BRUBAKER and PHILLIPS' (KILL OR BE KILLED, FATALE, CRIMINAL) bestselling MY HEROES HAVE ALWAYS BEEN JUNKIES. This gorgeous package is a must-have, an evergreen graphic novel every true comics fan will want to own.
Ed Brubaker is one of the most acclaimed writers in comics, winning both the Harvey and Eisner Awards for Best Writer five times, and Marvel's movies featuring his co-creation, The Winter Soldier, have all been international blockbusters. With artist Sean Phillips, Brubaker has spend fifteen years creating a staggering body of original work. Their series CRIMINAL, INCOGNITO, FATALE, THE FADE OUT, and KILL OR BE KILLED have sold millions of copies around the world. Moving into television writing, Brubaker first served as a Supervising Producer on season one of HBO's WESTWORLD, and then with director Nicolas Winding Refn, he was co-creator and writer of Amazon's TOO OLD TO DIE YOUNG, the first streaming series to debut at the Cannes Film Festival.
Paul Scheer is a SAG Award-winning actor, writer and director who has established himself as one of today's go-to comedic artists in film and television. On television, Scheer can be seen in a recurring role in the Seth Rogen produced Showtime series, BLACK MONDAY, opposite Don Cheadle, as well as on the Emmy-winning HBO series VEEP. He has appeared in the Oscar-nominated A24 film THE DISASTER ARTIST, appeared alongside Chance the Rapper in the A24 feature SLICE and the indie drama SUMMER 03. Other films include Universal Pictures' POPSTAR: NEVER STOP STOPPING, Paramount Pictures' DADDY'S HOME, and the Nicholas Cage satire ARMY OF ONE. He can currently be seen in the Lionsgate film LONG SHOT.
Other credits include Hulu's FUTURE MAN and NBC's THE GOOD PLACE. He can also be seen in the Crackle series ROB RIGGLE'S SKI MASTER ACADEMY. A huge Marvel fan, Scheer co-wrote the six part comic book series, COSMIC GHOST RIDER DESTROYS MARVEL HISTORY for Marvel, which released in March. As a producer, Scheer's credits include the Comedy Central digital series, UNSEND starring Joel Kim Booster and Patti Harrison, and he co-created and produced PARTY OVER HERE, a late-night sketch show for Fox. He also wrote, directed, and starred in DRIVE SHARE for Go90. Paul is also a prodigious podcaster who co-hosts two massive podcasts, HOW DID THIS GET MADE and UNSPOOLED both of which top the charts on iTunes top 100 podcasts. He is also the host of HANGING WITH PAUL SCHEER, a live show at the Largo with some of the biggest names in Hollywood.
Skylight Books
1818 N. Vermont Ave, Los Angeles, CA 90027
323.660.1175