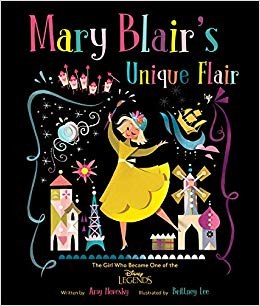 Illustrator/Disney artist Brittney Lee and author Amy Novesky appear on Saturday, August 17, 2019 at the Walt Disney Family Museum to present their book Mary Blair's Unique Flair: The Girl Who Became One of the Disney Legends. Lee and Novesky will also answer questions about how Blair inspired their own creative work.
Mary Blair was a powerful creative force who shaped the artistic direction of The Walt Disney Studios for decades, finding success during a time in history when men were often granted lead creative positions. Despite this challenge, and thanks in part to Walt Disney's faith in her vision, Blair flourished at the Studios and beyond, becoming one of the most influential concept artists of the 20th century. Today, many artists take inspiration from both her artwork and tenacity.
One of those artists is Disney visual development artist and children's book illustrator Brittney Lee. Lee, alongside award-winning Bay Area author Amy Novesky, took on Blair's fascinating story in their new children's book The Unique Flair of Mary Blair: The Girl Who Became One of the Disney Legends. Join Lee and Novesky as they discuss Blair's impact on their creative careers, what drew them to this project, and the challenges they faced translating the story that was as vibrant and rich as its subject's trademark style.
The book will be available for purchase in the Museum Store beginning August 13, 2019.
This program is suitable for all ages. Families with children are welcome to also attend the companion program, Storytime for Kids: Mary Blair's Unique Flair with Amy Novesky and Brittney Lee.
Brittney Lee
Brittney Lee is a visual development artist for the Walt Disney Animation Studios. She worked on such films as Wreck-It Ralph (2012), Frozen (2013), and Zootopia (2016). She's also the illustrator of a variety of children's books, such as Frozen: Anna Loves Elsa, by Brittany Rubiano, amongothers. Brittney lives in Los Angeles. To find out more about the artist, visit britsketch.blogspot.com.
Amy Novesky
Amy Novesky is an award-winning author whose picture books include Cloth Lullaby, The Woven Life of Louise Bourgeois; Me, Frida; Georgia in Hawaii; Imogen, The Mother of Modernism and Three Boys; and Mister and Lady Day. In 2020, two more books will follow: Girl on a Motorcycle, from Viking Press, and a book about fine artist Shahzia Sikander, to be published by MoMA. Amy lives in Sausalito, California. To learn more about Amy, please visit amynovesky.com.
Walt Disney Family Museum
104 Montgomery Street, San Francisco, CA 94129
415.345.6800