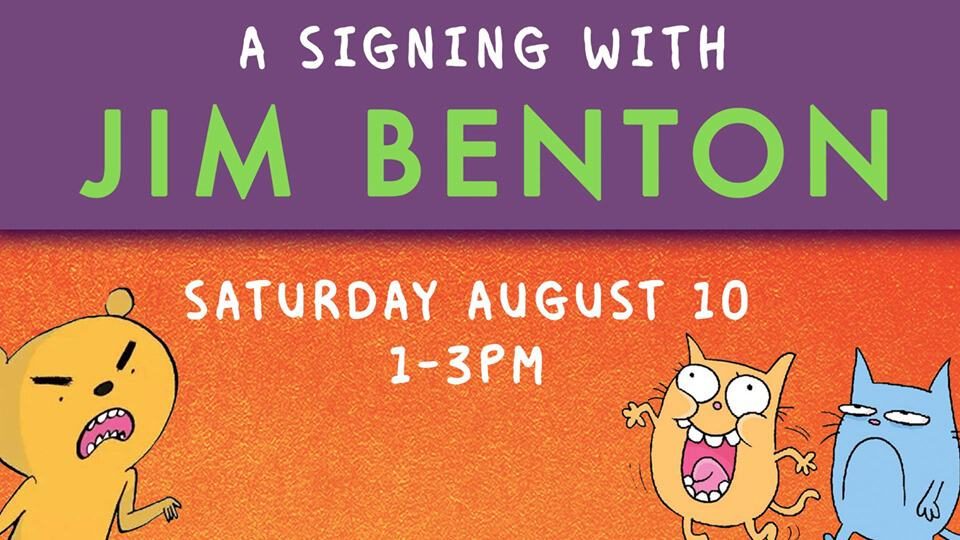 Press Release:
Vault of Midnight is excited to present a book signing and a "How to Draw" event with Jim K Benton to showcase CATWAD and Clyde, his newest graphic novels. The drawing event will feature his characters and take place in the Ultralounge, nestled beneath Vault of Midnight Ann Arbor, Saturday, August 10, 2019 at 1:00 PM and will be followed by a signing.
Catwad is from Scholastic and the books are goofy, full-color graphic novels for kids (ages 8-12) about a grouchy cat named CATWAD, and his dim-witted best friend named Blurmp who can see the bright side of anything. From pizza and computers, to love and happiness, this crabby tabby has a funny take on just about everything, and he's not afraid to share it. This collection of short comic stories will make even the grumpiest of grouches crack up and is not to be missed!
In Clyde, the title bear decides to ditch his safe and peaceful life in Cubville and head off for the mean streets of Grizzly City, he learns, with the help of a reformed juvenile delinquent butterfly, the Bad Life isn't always so great, and there's something to be said for helping your friends and family even though that really does kind of stink a little.
These books are out now and will be available at the signing, so be sure to come on down and check them out!
ABOUT THE AUTHOR
If you don't know Jim, he is the author and artist behind the Scholastic book series, Dear Dumb Diary, which has sold over ten million copies, Franny K. Stein from Simon & Schuster, and the licensing hit, It's Happy Bunny. Jim has been nominated for Eisner Awards twice, and won Reuben divisional awards twice.
Vault of Midnight
219 S. Main Street, Ann Arbor, MI 48104
734-998-1413