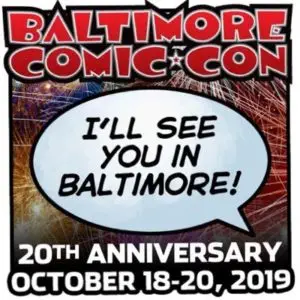 Press Release:
Baltimore Comic-Con is pleased to announce the additions of first-time guests and first-time-in-a-long-time returnees Cullen Bunn (courtesy of AfterShock Comics), Mitch Gerads, N. Steven Harris, Edgardo Miranda-Rodriguez, Mike Perkins, and Livio Ramondelli to the show in 2019. You can purchase tickets online now — please note, Jim Lee Fan Package tickets are still available but limited numbers are dwindling and we recommend not procrastinating, as interest is high!
Cullen Bunn, who is appearing at the 2019 Baltimore Comic-Con courtesy of AfterShock Comics, writes comic books for Oni Press (The Sixth Gun, The Damned, Blood Feud, Helheim, and The Tooth), Dark Horse (Harrow County, Conan the Slayer), and Marvel Comics (Wolverine, Spider-Man: Season One, Conan the Slayer, Moon Knight, and Fear Itself: The Fearless). He also writes short fiction and novels, including the middle reader horror novel, Crooked Hills. His short stories and non-fiction have appeared in dozens of magazines, anthologies, and e-zines. His noir/horror comic (and first collaboration with Brian Hurtt), The Damned, was published in 2007 by Oni Press. The follow-up, The Damned: Prodigal Sons, was released in 2008. Since then, he and Brian have teamed up again on The Sixth Gun, an ongoing supernatural western. He has worked on several other projects for Oni Press, Marvel, and DC. In 2011, he became a full-time writer, founded Undaunted Press, and edited the critically-acclaimed small press horror magazine, Whispers from the Shattered Forum. He is now writing Knights Temporal for AfterShock Comics.
Mitch Gerads is an Eisner and Ringo award-winning illustrator who has made a career out of bringing humanity and realism to the superhuman and unreal. He is best known for his critically acclaimed work at DC Comics with writer Tom King on Mister Miracle, Batman, and The Sheriff of Babylon. He lives and draws in Phoenix, Arizona, with his wife, son, and cat.
N. Steven Harris has had a career spanning over 20 years in the comic book industry. He is 2-time Eisner-nominated, 4-time Glyph Award-winning, and recently, VLA Graphic Novel Diversity Award-winning artist for Watson and Holmes, published by New Paradigm Studios. He co-created the 2-time Glyph Award-winning book for Best Female Character, Ajala: A Series of Adventures. His highlights include DC Comics' Aztek: The Ultimate Man, a character which he co-created along with Grant Morrison and Mark Millar for DC Comics. His credits also include Batman: Officer Down, Batman 80-page Giant, The Huntress, Captain America: Sentinel of Liberty, Generation X, X-Force, and Deadpool Annual '98. Within the last 5 years, he has worked on titles such as Voltron, New Money, and Solarman. Mr. Harris's most recent publication is DC/Wildstorm's Michael Cray. He also has participated in gallery shows showcasing comic book art in New York, Philadelphia, Georgia, Chicago, California, and Japan.
Edgardo Miranda-Rodriguez is a graphic novelist most notably recognized as the writer and creator of the critically acclaimed and bestselling superhero series La Borinqueña that is on exhibit at the Smithsonian Museums. In addition, he is celebrated for his philanthropic efforts via the benefit anthology Ricanstruction: Reminiscing & Rebuilding Puerto Rico, featuring La Borinqueña teaming up with Wonder Woman, Superman, Batman, and other DC Comics heroes which he self-published under his own studio, Somos Arte. Sales of Ricanstruction have collected close to a quarter of a million dollars and lead to the development of the La Borinqueña Grants Program for local grassroots organizations in Puerto Rico. As the Creative Director and owner of Somos Arte, a Brooklyn-based creative services studio, he has worked with such notable clients as Atlantic Records, Columbia University, Sony Pictures, and Marvel. In addition, Edgardo is a curator of art exhibitions having already produced three original Marvel comic book art exhibitions.
Mike Perkins is a comic book illustrator having worked on Captain America, Thor, and The X-Men. After wrapping up the 31-issue adaptation of Stephen King's The Stand, he transitioned into illustrating Astonishing X-Men and has since successfully re-launched Deathlok, Carnage, and Iron Fist. He has recently transitioned to DC Comics, where he is depicting the adventures of the Green Lanterns. He has been nominated numerous times for Eisner and Harvey Awards and, as well as winning the Eagle Award, counts being on the New York Times Bestseller list and being exhibited in Munich, London, and Paris among his career.
Livio Ramondelli is a long time artist of Transformers for IDW Publishing, as well as contributing movie and toy designs for Hasbro. Other credits include Star Trek and Firefly Illustrated Travel Guides for Insight Editions, as well as comic book covers for Battlestar Galactica and Pacific Rim. He previously worked as a concept artist on DC Universe Online for Sony/DC Comics.
"What an awesome group of talent," said Marc Nathan, show promoter for the Baltimore Comic-Con. "We have everything from creators synonymous with titles to award winners to philanthropists in this bunch, and we're really proud to be able to introduce them to our fans. These are all names you have likely heard, but have never seen at our show (or at least not for some time anyway!), and we're excited to bring them to Baltimore."
Visit www.baltimorecomiccon.com/tickets for more information and to purchase your advanced tickets!
In the coming weeks, look for more announcements from the Baltimore Comic-Con. We are looking forward to highlighting our guests, the Ringo Awards, industry exclusives, and programming. The latest developments can always be found on our website, Twitter, Instagram, and Facebook pages.