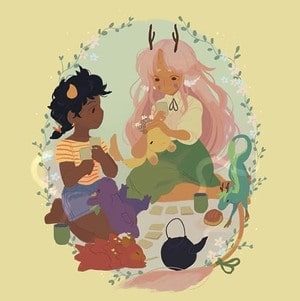 Gallery Nucleus is excited to welcome New Zealand based illustrator and artist Katie O'Neill, who will be visiting our gallery space for a 2-hour signing. Katie's books have delighted fans for years with her slice-of-life style and soft pastel palette. The stories often feature "young characters learning about themselves and their strengths, protecting and finding their place in the world around them" – Katie O'Neill.
With Oni Press she has published Aquicorn Cove, Princess Princess Ever After, Tea Dragon Society and new upcoming September release Tea Dragon Festival.
Don't miss this rare visit, come join us Tuesday July 23rd, 6 pm! Her books will be available, plus goodies and raffle giveaway prizes for attendees!
Gallery Nucleus
210 East Main Street, Alhambra, CA 91801
626.458.7477