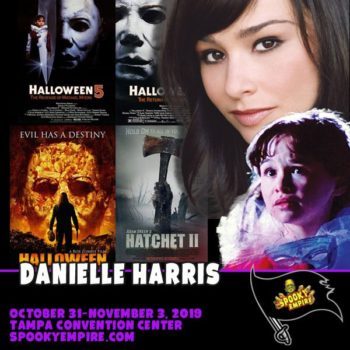 DANIELLE HARRIS is best known for her role as "Jamie Lloyd" in "Halloween 4" and "Halloween 5", but she's also appeared in Rob Zombie's versions of "Halloween" and "Halloween 2" as "Annie", plus "Hatchet 2", "Victor Crowley", "See No Evil 2", and "Don't Tell Mom the Babysitter's Dead", plus series such as "Holliston", "Fear Clinic", "That's Life", "The Wild Thornberrys" (Debbie), and who can forget her role on "Roseanne".
We're thrilled to welcome Danielle back to Spooky Empire, October 31-November 3rd in Tampa, FL.
This is an appearance you don't want to miss…plus join us for what will be an incredibly over the top 4-day HALLOWEEN event, starting on Thursday, October 31 and celebrating through Sunday, November 3! The plans we have in store for you are endless!!
Get your tickets and reserve your rooms TODAY! A variety of ticket packages are available as are multiple hotel choices in the downtown Tampa area, all just walking distance from the TAMPA CONVENTION CENTER!
Visit us at spookyempire.com for all the info you need!